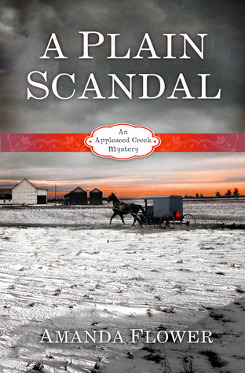 The cast from A Plain Death is back and trouble is on the horizon. When I say trouble, I mean trouble paired with a heaping helping of mystery to devour. A good book in my opinion should reel you in like the catch of the day. A Plain Scandal does just that….hook, line and sinker. Amanda Flower has written a smart, clever, and very entertaining book. To say I enjoyed reading this book would be an understatement! I will just say that I personally think it may be even better than A Plain Death and I thought that book was awesome. Her characters are becoming fast favorites of mine. The kind of characters written to entertain you and will keep you wondering what they are up to after the story ends. I love reading a book when the main characters seem like people you know. Chloe reminds me of my husband……she knows her way around a gadget or two.
I like all aspects of A Plain Scandal. The fast moving plot, the intriguing townspeople of Appleseed Creek and most importantly the mystery…..ah yes "the mystery". Who done it…..who would commit such crimes against the Amish? You will be guessing right up to the end. In closing, if I had to choose one word to sum up A Plain Scandal, it would be captivating which means: Attract and hold the interest and attention of; charm. Yes, captivating is the perfect word and you surely will be.
Author info: http://amandaflower.com/
Facebook: http://www.facebook.com/authoramandaflower
This book was provided to me from B&H Publishing via NetGalley for review purposes.