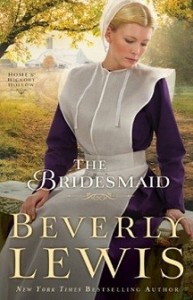 I blazed through The Bridesmaid in a day and a half. This must mean that it is a great book…. right? That's exactly what it means! I found myself consumed by Joanna's story. She harbors a secret passion for writing and being twenty-seven and not married, Joanna is making a few people talk, especially her younger sister Cora Jane.  Her sister thinks she should stop being a bridesmaid and concentrate on finding her own beau. Three times a bridesmaid. Now that's just asking for trouble! Little does Cora Jane know that Joanna does indeed have a secret romance brewing. On a trip to Virginia Beach, Joanna met Eben Troyer and instantly hit it off. The problem is he is from Indiana and with Joanna being from Pennsylvania that's quite the distance. Eben intends to move to Hickory Hollow and properly date our bridesmaid but his move all depends on his brother returning to take his place on the family farm. Will absence make the heart grow fonder? Or will these two be over before they even start?
I had high hopes for this book and I was not disappointed! When I read The Fiddler I couldn't wait to read more about Joanna. Her love of writing and having to keep it from everyone made her an intriguing character. I always say when a book pulls you in and grabs your attention from page one and keeps you turning the pages in rapid succession then it's worth every penny you pay for it. Beverly Lewis has delivered a fantastic book that will make you glad you broke open the piggy bank. I truly enjoyed every minute reading this book.Even when the characters are experiencing rough waters they never lose sight of the bigger picture…..with a little faith one can overcome just about anything.
This book was provided to me from Bethany House Publishers via NetGalley for review.
---
Author Info:
Website: http://www.beverlylewis.com/