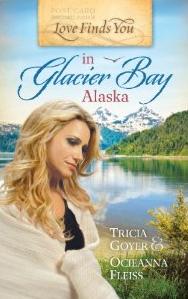 I started Love Finds You In Glacier Bay Alaska during a snowstorm and I really didn't want to read about snow while freezing in the snow. I was literally expecting to get chilled just thinking about the sub-zero temperatures and icebergs. Boy was I ever wrong! The authors paint such a beautiful description of Alaska that even I, the one who loathes snow, feel the need to travel to Glacier Bay. As a reader, we are taken on a journey of one woman's quest to find self-acceptance, the dark cloud that hovers over her head. Ginny is a woman who has it all, she is a recording artist and has made quite the name for herself but being the famous Ginny Marshall comes with demands she can't seem to fill. Mainly because her heart lies somewhere else and with a past she cannot forget….a heart that leads her to Glacier Bay, Alaska….
Along with Ginny's adventure, Tricia Goyer and Ocieanna Fleiss also weave in a story told through letters from long ago which are filled with characters who will steal your heart in a matter of seconds. The letters are a major part of the plot and without them the book would lose part of its charm. In fact, I would really enjoy a book based on the characters from the letters! When you read this book please take my advice and have a box of tissues ready along with ample time to devour each page. As you travel through Glacier Bay your attention to everyday mundane chores such as cleaning may be limited due to the fact that one simply cannot put this book down. I say travel because you really will be transported to Alaska through the pages of this truly heartwarming story minus the long underwear or as they say in my neck of the woods long johns. Happy Reading!
I am a member of Tricia Goyer's 2013 Launch Team and was given a copy of this book for review purposes.