Plain Faith
Their Story, Our Story
Sometimes reading about another's journey
encourages us to consider our own.
by Tricia Goyer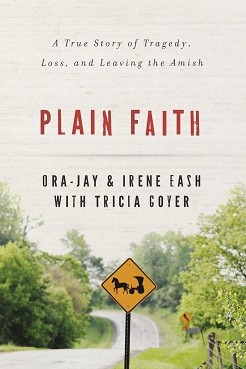 One of my favorite things is interviewing people. I love sitting down over coffee and asking about their lives. It's always interesting how someone tells his or her story. They usually start at a major turning point. That was true about Ora Jay and Irene Eash. They were new friends who'd grown up Amish, and within a few minutes of me asking about their lives, the turning point of their story spilled out of their mouths: "We were on our way home from an ice cream social when we fell asleep. Our horse cross the road and our buggy was hit by a semi. Our two girls died that night."
It's a parent's greatest fear—losing a child. Ora Jay and Irene lost two. They'd grown up in an Amish community, and never once considered leaving, but after losing their daughters they felt unsettled. Life could be so short. Was living within their simple community enough for them?
They looked to the west—Montana!—and dreamed of adventure. But even when the got to Montana they discovered adventure wasn't what their hearts longed for. It was then they started noticing the smiles and warm attitudes of their English neighbors. Ora Jay and Irene always thought the Amish way was the way to heaven—so why were these Christians filled with such joy?
I clearly remember the moment Ora Jay and Irene told me that part of their story. Losing their daughters was a turning point for their lives, but daring to seek a true relationship with Jesus—beyond the Amish church—was the turning point for their souls.
Plain Faith: A True Story of Tragedy, Loss, and Leaving the Amish took a few years to write. At the time that we worked on it I lived 2,000 miles away from my friends, but we met up in Montana once and Indiana another time.
Question by question, answer by answer, we peeled back the layers of their lives. And with each revelation it became clear that God's hand was on Ora Jay and Irene through it all. He'd been there in their darkest nights and in their brightest day—the day of their salvation.
There are many people interested in the Amish, and I hope they have a chance to read Plain Faith. I think each reader will learn something about the Amish that they never knew before. (Ora Jay and Irene confess how things really are, without anything to hide!)
More than that, I hope each reader will also start to peel back the layers of their own life journey, and discover how God has been there all along. Each of us face dark days, and each of us can find true joy, too.
Sometimes the journey life leads us on isn't one we start out wanting to take, but as you see what God can do in the lives of ordinary people, you often discover a journey of plain faith is a right one for you, too.
Plain Faith – Their Story, Our Story http://t.co/dGWpxkY8tN via @Michelle__Dawn

— Destination Amish (@Michelle__Dawn) September 10, 2014