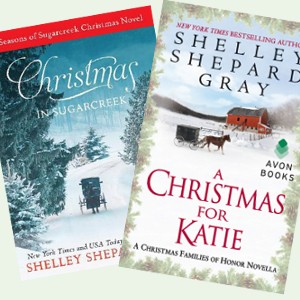 I have some awesome news…….HarperCollins Publishers is hosting a whopper of a giveaway. There are five sets of Shelley Shepard Gray's new book A Christmas for Katie along with Christmas in Sugarcreek up for grabs! Five lucky people will win both books….how wonderful is that?  They are perfect books to curl up with a nice big cup of coffee and wait for Old Saint Nick to arrive. I thought it would be fun to share some Christmas memories with each other…..to enter leave a comment and tell me a favorite Christmas memory or family tradition. Our family tradition every year is make a ton of cookies. I am a cookie monster so this brings me much joy! Good Luck Everyone:)
Contest Rules:
Leave a comment telling me a favorite Christmas memory or tradition on this post below to be entered.
Contest starts today November 20th and ends on November 27th. Winners will be announced on Wednesday the 28th. 
Don't Forget To: Share on Facebook or Tweet on Twitter, and leave another comment if you did. That's another chance to win! The sharing buttons are below:)
My Review of A Christmas for Katie: A Christmas Families of Honor Novella
As I have said many times over I am a sucker for a good Christmas story. I adored A Christmas for Katie by Shelley Shepard Gray. Put me right in the mood for caroling and (gulp) snow! If you have read the Families of Honor series, then you know the precocious Katie Weaver. Katie is on a mission to fix the falling down nativity scene that stands outside the local library before Christmas arrives. She is faced with a few obstacles but if determination is the prize then Katie takes top billing! We get to visit with other members of the Weaver family and see what they have been up to. I always enjoy catching up with characters that I cared so much for from previous books. Shelley's books, this title included, are always filled with likeable characters and storylines that are so engrossing you forget just for a minute that your life is filled with obligations and we should stop reading because dinner needs to be cooked! Every time I turn the last page of one Shelley's books I am left happy and eager to dive into her next story…..that's the mark of a great author…..they keep you coming back again and again!
This book was provided to me from HarperCollins Publishers via Edelweiss for review purposes.