Hillbilly Amish
In Two Steps Forward, Sylvia Schrock moves to Stoney Ridge from her ultra-conservative Old Order Amish community and meets Jimmy Fisher, a charming guy with deep set dimples who's a little too handsome for his own good. He's been away for a while but now he's back. Broke. And desperately needs a job.
Outsiders, like us, might label Sylvie's former church as legalistic. Lacking grace. Her choice to raise her sister's son as her own, for example, was a hard pill for her father to swallow. After he called the little boy Willie Jitmit (say that three times fast) a few too many times, she left the community. And that's where we meet up with Sylvie.
Next door neighbor Jimmy works on Sylvie's farm and grows intrigued by his lovely new boss—so unlike other girls. The problem is that Jimmy's mother can't abide Sylvie, for many reasons, especially knowing Sylvie is, according to Jimmy, a 'hillbilly Amish'.
Most assume that the Amish are one-size-fits-all. They look alike, they talk alike, therefore, they must be alike. Not true! There's remarkable variation, from allowing cell phones in one church to outdoor plumbing in another. Some keep refrigerators outside on the porch, others allow tractors. Currently, there's over 1900 Amish churches in North America and each one is a stand alone. No overriding bishop to call the shots and make all the decisions.
A church like Sylvie's might seem backward to us. Or as Jimmy says, a hillbilly church. Those churches hold tight to tradition, resist change more than other Amish groups, and are the most restrictive to technology. They're also more isolated. On an anecdoctal note, most of the odd news stories about the Amish come from former church members of conservative communities.
But that's not the whole story. These ultra conservative churches take the Simple Life very seriously, and we see the results in Sylvie Schrock. Her upbringing defines her outlook. She's kind to all and content with little, a rare quality that comes from one who has lived without creature comforts.
Without spoiling the ending of Two Steps Forward for you, Sylvie chooses to leave the more progressive Stoney Ridge and return to her former church. The question that remains…what will Jimmy Fisher do?
Thanks for stopping by Destination Amish, Suzanne!

Readers, do you want a chance to win a copy of Two Steps Forward? Leave a comment below and you're entered. Easy!

Giveaway starts today, Tuesday, February 4th and ends Tuesday, February 11th and is only open to US residents. One winner will be selected at random and announced on Wednesday, February 12th in the comment section of this blog post.

Good luck and don't forget to share this giveaway with your friends!
*Thank you to Revell Books for sponsoring this post.*
---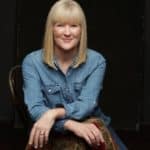 Carol award winner Suzanne Woods Fisher writes stories that take you to places you've never visited—one with characters that seem like old friends. But most of all, her books give you something to think about long after you've finished reading it. With over one million copies of her books sold worldwide, Suzanne is the best-selling author of more than thirty books, ranging from non-fiction books, to children's books, to novels. She lives with her very big family in northern California.
---