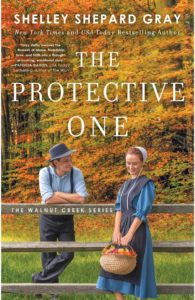 We're thrilled to share Shelley Shepard Gray's third book in the Walnut Creek Series, The Protective One, on sale starting January 21st, 2020.
It's been years since childhood friends, fondly known as "The Eight," left their hometown of Holmes County, Ohio. But after a tragic loss brought them back together, one member of The Eight, Elizabeth Anne, is re-examining what's important in her life. Though her longtime suitor seems like a perfect match on paper—he's Mennonite and has her family's stamp of approval—E.A. doesn't feel as spark, and desperate for a change, she breaks things off.
E.A.'s world takes another turn when one of her sewing students is in need of protection. With the help of her childhood friend, Will, E.A. begins a difficult and rewarding journey that ultimately leads her to everything she's been searching for.
In this latest installment in the Walnut Creek series that "both delights and surprises" (Leslie Gould, bestselling author), Shelley Shepard Gray pens a powerful and poignant tale of friendship, courage, and love.
Read an excerpt from The Protective One below:
JULY

There were more fireflies dotting the fields around her house than Elizabeth Anne could count. But still she tried. She'd once read that people believed wishing on them, like on the stars, might make dreams come true. She'd always thought such a notion was foolish.

But lately?

Well, lately, Elizabeth Anne was beginning to think she'd been going through life a little too resolutely. Perhaps she would be happier if she took more time to daydream and wish on fireflies.

She was a twenty-four-year-old Mennonite, had a job at the fabric store that was rather boring, and was anticipating a proposal from a man who had never made her pulse race or her heart sing.

Though having both employment and a beau should have given her a feeling of fulfillment, she felt empty. Like a firefly that had no light.

But maybe, just maybe, she wasn't the kind of woman destined for fierce longings or challenging jobs. Were some women simply more romantic and apt to blush and fuss more than others? Perhaps the problem was that she'd never felt such things. Perhaps she wasn't capable of such.

She sighed. The action rocked the swing a bit, jarring the man sitting next to her.

"Elizabeth Anne, you've sure been quiet for a while," David blurted from her side. Looking her over like a doctor might look at a sprained ankle, he continued, "Is everything all right? Are you ill?"

"Am I ill? Oh, nee." She was simply bored.

Folding his hands over his chest, David sighed. "Well, then . . . what have you been thinking about?" Impatience was in his voice now. "You know it's only proper for us to sit together on the porch swing for thirty minutes. We should make the most of our time."

Elizabeth Anne almost rolled her eyes. Because that, she feared, was the problem. Here they were, a courting couple sitting alone on a porch swing on an early summer evening. The air was warm and comfortable, fireflies were twinkling in the distance, and the faint scent of honeysuckle floated in the breeze.

No one else was around, and even if someone were, no one in her family would so much as blink if David had his arm around her shoulders. Not even if they were kissing. They'd been courting a long time now.

But they weren't doing any of that. Nothing even close to it. And they never had.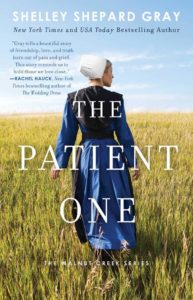 To celebrate the release of The Protective One (book 3), we are giving away a copy of The Patient One (book 1) to one lucky reader. To enter, leave a comment below. Easy peasy!
Giveaway starts today, Monday, January 20th and ends Monday, January 27th and is only open to US residents. One winner will be selected at random and announced on Tuesday, the 28th in the comment section of this blog post. Good luck and don't forget to share this giveaway with your friends!
---
Shelley Shepard Gray lives in southern Ohio and writes full time. A busy wife and mother of two, she spends her days writing and keeping track of her two teenagers. Her two dogs keep her company when she writes in her basement.
Shelley enjoys writing about the Amish and visits Amish communities in Adams and Holmes counties several times a year. When not spending time with her family or writing, she serves on several committees in her church.
She also bakes a lot, loves coconut cream pie, and will hardly ever pull weeds, mow the yard, or drive in the snow.
Shelley also spends a lot of time on line! Please visit her website, www.shelleyshepardgray.com to find out her latest news…or become her friend on FaceBook.
*Thank you to Gallery Books for sponsoring this post.*
---