The story of the Prodigal Son has always been my favorite parable, and I've studied it and taught it more times than I can count. Still, no matter how familiar, I always find something new in the story. Think of the son, coming home longing to be accepted, even if he must be a servant instead of a son. Think of the father, sacrificing his dignity and position to run out in the street and welcome him home. I simply can't picture that meeting without being moved almost to tears.
Given that I love it so much, it's not surprising that the Prodigal Son theme runs through many of my stories. In the latest, THE PROMISED AMISH BRIDE, the prodigal theme comes to the forefront as Aaron, youngest of the King brothers, comes back to the Amish home he'd deserted as a teenager. But this prodigal isn't longing for acceptance. Instead, he's angry, resentful, and determined not to humiliate himself by confessing and begging forgiveness. He only wants refuge from the disgrace that has shattered his successful Englisch life.
But Aaron doesn't reckon on running into neighbor Sally Stoltzfus on his way home, and he can't believe that the shy little girl he remembers has turned into such a beautiful, outgoing woman. Sally, now the community's teacher, hasn't forgotten the rebellious teenager she'd had such a crush on, but she's dismayed to see that he's turned into a bitter, hardened man who doesn't want anything from anyone.
Still, lively, audacious Sally isn't one to give up on the boy who'd once promised to wait for her to grow up and marry her. Aaron might count those idle words as a joke, but Sally considers them a license to interfere, no matter what Aaron thinks. With the help of Aaron's meddlesome small niece and the advice of his wise old uncle, she sets out to show Aaron he's back where he belongs.
Just when Sally thinks she's succeeding, a visitor from the outside arrives with news that turns Aaron's life upside down. Faced with a choice, will he be able to accept the role of penitent prodigal, or will he run away again?
Stories that turn on a writer's deepest beliefs can be the most difficult to write, but also the most satisfying. I hope you'll think I succeeded with THE PROMISED AMISH BRIDE.
Blessings,
Marta
---
Thanks for stopping by Destination Amish, Marta. Your book sounds great!
Who's ready for a giveaway? Marta is giving away one print copy of THE PROMISED AMISH BRIDE and one ebook. Two winners will be picked! To enter, leave a comment below and let me know which you prefer, print or ebook. Easy peasy.
Giveaway starts today, Monday, January 28th and ends Monday, February 4th and is only open to US residents. Two winners will be selected at random and announced on Wednesday, February 6th in the comment section of this blog post. Good luck and don't forget to share this giveaway with your friends!
---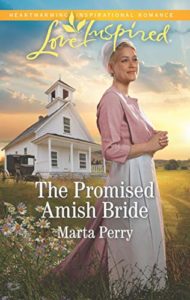 ABOUT THE BOOK:
A prodigal homecoming… The Brides of Lost Creek continues
Returning to his Amish community after losing his job in the Englisch world, Aaron King isn't sure if he wants to stay. Everything's the same, including his childhood friend Sally Stoltzfus. With an uncertain future and a big secret, Aaron has changed. But the more time he spends training a horse with Sally, the more he believes this is exactly where he's meant to be.
ABOUT THE AUTHOR:
Marta Perry realized she wanted to be a writer at age eight, when she read her first Nancy Drew novel. A lifetime spent in rural Pennsylvania and her own Pennsylvania Dutch roots led Marta to the books she writes now about the Amish. When she's not writing, Marta is active in the life of her church and enjoys traveling and spending time with her three children and six beautiful grandchildren. Visit her online at www.martaperry.com.
---