Thanks so much for visiting Destination Amish, Wanda! Can you tell us about your new book, The Hope Jar?
Michelle Taylor is not who her new family in Lancaster County believes her to be. The Lapps were looking for their long-lost granddaughter when they met Michelle and she assumed the identity of Sara Murray. Once homeless and hopeless, Michelle has come to love her new Amish friends and even considers the idea of romance among them.
Finding an old blue jar in the barn that is filled with slips of paper containing thoughts, quotes, and prayers by an unknown author becomes a boost to Michelle's budding faith— but also convicting. How can she tell the truth without hurting the ones she has truly come to love?
Which character in your new release is your favorite? Why?
Mary Ruth was one of my favorite characters in The Hope Jar. She is a gracious Amish woman, full of love and wisdom, like so many of my Amish friends are. Even in the face of adversity, Mary Ruth Lapp is compassionate and loving towards others.
Do you have a favorite scene or quote from The Hope Jar?
One of my favorite scenes is in chapter 3, when Michelle enters the Lapps' home and realizes that the simple way they live is a lot different than what she is used to. A favorite quote from the book was a prayer found on a note in the jar Michelle discovered in the barn: "Dear Lord. You forgive my sins and give me hope." Hope was something Michelle desperately needed.
Tell us about your writing process and how you came up with the idea of a hope jar (love this!).
The idea of hidden prayer jars was suggested by my editor. I liked the concept and soon came up with a 3-book series. Each of the books involves a different, but connecting, character who finds hope, forgiveness and healing from the messages she discovers inside one or more of the hidden jars.
What is the message you want readers to take away from reading The Hope Jar?
I would like for my readers to come away with a feeling of hope, knowing that no matter what happened in their past, or what they might be dealing with now, they can find hope and healing through God's love, as well as the love and nurturing of people, like Willis and Mary Ruth Lapp.
Can you tell us anything about your upcoming books?
I am currently working on an Amish-themed novella that will be in a collection with a novella written by my daughter-in-law, Jean, and one by my granddaughter, Richelle. The novella collection will release in June 2019. I will soon be working on Book 3 in my Prayer Jars series. The title is The Healing Jar, and it will be published in August 2019. Book 2, The Forgiving Jar, comes out in February 2019.
How can readers connect with you?
Readers can connect with me via my website at www.wandabrunstetter.com. I can also be found on Facebook, Twitter, Youtube, and Pinterest.
---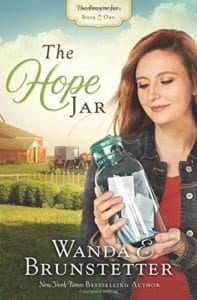 Fun news: Barbour Publishing is giving away a copy of The Hope Jar to one lucky reader! To enter, leave a comment below. Don't forget to share this post with your friends! One winner will be selected at random and announced on Monday, August 27th.
Giveaway starts today, Monday, August 20th and ends Monday, August 27th and is only open to US residents.
---