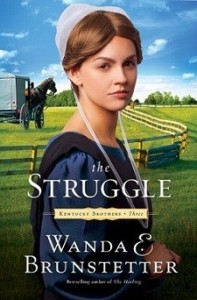 Timothy Fisher is trying in vain to save his crumbling marriage to Hannah. He feels that she is too attached to her mother and spends most of her time at her parent's home. Hannah puts Timothy on the back burner and he is fed up. He puts a plan in motion and moves Hannah and their adorable daughter Mindy to Kentucky. To say Hannah is upset with the move would be an understatement! She is downright woe-begone and turns into a nagging sourpuss. Even with Hannah putting up a fight Timothy knows this is the right choice to save his marriage. He believes if he could pry Hannah from her mother's grip they will live happily ever after. Once they arrive in Kentucky, Hannah is not very friendly to Timothy's family and is often cold and distant. She longs to return to Pennsylvania and into her mother's waiting arms. Hannah is overprotective of Mindy, which leads to arguments with her husband. Timothy wants an attentive wife not an overbearing woman who prefers her mother over her own husband. Is that too much to ask for?
Throughout this book I really had it out for Hannah! I thought she was mean and had a rotten attitude. Boy did my feelings change as the story progressed. I never expected what Wanda had in store for this struggling couple. Favorite characters from The Journey and The Healing are settling nicely in Kentucky. Their stories get some loose ends tied up and you will be happy with the end result. I am not much of a crier, but this book had me shedding more than just one tear! Over the course of three books I have embraced these characters and have truly enjoyed my time in Kentucky.
This book was provided to me from Barbour Publishing for review.
---
About the Author
Website: http://www.wandabrunstetter.com/
Like on Facebook: http://www.facebook.com/pages/Wanda-E-Brunstetter/119136496242
This book is available for pre-order in the Destination Amish Store.