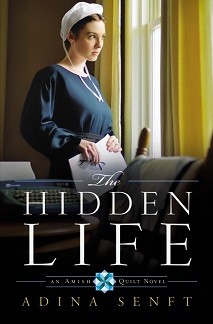 How would you like to win The Hidden Life: An Amish Quilt novel? I am very happy to have Adina Senft here today for an interview and she is giving you all a chance to win a copy! One lucky reader will win this book from Adina and all you have to do is leave a comment at the end of the interview. Enjoy and good luck to all!
Contest starts today June, 20 and the winner will be announced Monday June, 25.
---
Why don't we start by you telling us a little about yourself?
I grew up on the West Coast of Canada in a plain church—not Amish, but I was often asked if I was. I learned to sew when I was five, and by the time I was a teenager, was making my own clothes because what was in the stores wasn't suitable for church. I knew I was a writer when I was 8, but this didn't really cause a problem until I was in my thirties and realized how much the church would frown on me being published. If I were writing children's books or nature books, that would be fine, but I wanted to write romance—horrors! Between that and several other factors, I left the church and continued my education, eventually earning an MFA in writing popular fiction. My first full-length sale was my master's thesis!
Can you tell us about your upcoming book?
I'd love to! Here's the back-cover summary of The Hidden Life, in stores June 26:
Emma Stolzfus has never been courted or kissed, and now that she's 30, it has become her place as the unmarried daughter to look after her elderly mother. But in the dark hours when her mother is asleep, Emma writes letters and essays to Amish periodicals, short stories, and even a novel she's been working on for the last five years. When a New York literary agent, Tyler West, takes an interest in her work, Emma secretly goes to meet him. When she returns, something about her is different—and the men of her Amish community take notice. But how can she settle for second best when her heart made its choice years ago—to a man she can never have? Only her friends, Amelia and Carrie, know the truth in her heart as they work together on their quilt … and only they understand when an old tragedy comes to light that will either hurt or heal … and reveal Emma's hidden life.
I am very excited for The Hidden Life because Emma was my favorite character from The Wounded Heart.  Is there a particular character you could say is your favorite?
I have to agree with you—Emma is my favorite, too. Her heartache is that she is unmarried in a culture where a woman's purpose is to have a family and manage a home. I grew up in that kind of culture. There just isn't a place for single women of a certain age—they feel silly at young people's meetings, and they feel inadequate and lonely among the marrieds. Plus, Emma is a writer, which is frowned upon because Amish women don't have a public voice. Since I shared many of her struggles, I really relate to her.
One little side note—see that typewriter on the cover? It's mine! It's a 1977 Smith-Corona and I wrote it into the story for Emma, little dreaming that my publisher would ask me to send it to the studio for the cover shoot!
Are you reading any books right now? Do you read other Amish fiction authors?
I do—from Beth Wiseman and Linda Byler (the real-life Old Order Amish author who inspired Emma's character) to mysteries by P.L. Gaus and gritty thrillers by Linda Castillo. On my own TBR pile right now is a real mix of books—a nonfiction book about the Hindenburg airship, Suzanne Collins's Catching Fire, You Can Draw in 30 Days (I'm on Day 4!), and Seasons by Elizabeth Byler Younts … I'm a pretty eclectic reader.
What is one thing about you that readers would be surprised to learn?
I rescue chickens. You wouldn't think that here in Silicon Valley there would be many to rescue, but there are. I have 13 at the moment, all voice trained, all affectionate and rewarding companions. Chickens are smart and have all the basic emotions we do—love, jealousy, anger, curiosity. They make wonderful pets, and the eggs are a bonus.
Have you ever visited an Amish community to do research for your books?
Absolutely. I'm one of those people who has to see, touch, taste, and smell in order to get the details right. Every year I spend a week down in Lancaster County, walking the roads, talking to Amish women in the fabric store, listening to conversations, hearing the clipclop of hooves on the asphalt. Last summer I ate supper with an Amish family—a widow with 7 boys. She cooks dinner for Englisch folks several nights a week to make her living, and my goodness, what a meal that was! Three courses for 14 people plus her sons—singlehanded. Needless to say, we guests did the dishes for her. The Amish believe words don't have much value—that actions speak much louder. So doing those mountains of dishes was the best way we knew to say "denki."
Who or what inspired you to become an author?
In the third grade I wrote a composition about a ghost in a graveyard, and my teacher (very kindly) told me it scared her. I realized that you could affect people's emotions and perceptions through words, and I was off and running. I recently located that teacher on Facebook and thanked her for being the spark that ignited my writing career. Then, I wrote my first complete novel at 13—on yellow paper with white gobs of correction fluid! The teen years were miserable for me—the only plain girl in public junior high and high schools—so I spent more time in my fictional world than I did in the real one. I even sent it away to a publisher, who returned it with embarrassing speed. However, he did say that I knew how to tell a story, so that kept me going through the next 20 or so years until I was published.
What's your favorite thing about being an author?
Creating worlds to have adventures in—and inviting people to come in and share them with me.
Do you have anything else that you would like to share?
Emma has a talent for finding "little gifts" from God in her day. I hope her book will encourage readers to remember that God has a plan for every life, and He sprinkles little gifts along the way to help us and bring us joy, even in the dark moments.
What's next for you?
I'm just finishing up Carrie's book, The Tempted Soul, which is the third book in the trilogy. This one is about a childless woman whose only wish is to be a mother, and who is told repeatedly—even by her husband—that her condition is the will of God and she must accept it. Her greatest temptation is Englisch fertility technology … which the Amish church forbids. It will be out in March 2013.
Thanks so much! It's been fun talking with you! You can find me on the web at http://www.adinasenft.com, and there's a link there to my blog, The City Girl's Guide to Plain Living.
---
About the Author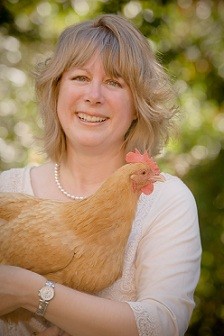 Adina Senft
The Wounded Heart, an Amish Quilt novel, September 2011
The Hidden Life, June 2012
The Tempted Soul, 2013
http://www.adinasenft.com