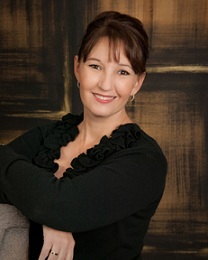 I am happy to have Shelley Shepard Gray on the blog today for a Q&A. Happy Reading & Enjoy!
Why don't we start by you telling us a little about yourself?
I'm married, have two kids in college, and live in southern Ohio. I also have a little miniature dachshund name Suzy who I'm very fond of! Before I started writing, I used to teach elementary school. When I'm not writing, I love to read, or walk, or bake. I love to travel, too!
What is the inspiration behind your newest novel?
I often try to find new settings for my Amish novels. While researching the Amish of Kentucky, I came across a series of photos of Crittenden County. The area was beautiful and lush and just a little bit wild looking. It looked like a perfect place to have something 'mysterious' happen! That's when I began envisioning a trilogy of novels surrounding a mystery. The stories went on from there! Missing is the first book in the series, and it will release on March 20.
Amish fiction seems to be very popular nowadays, why do you think readers have taken to these types of books?
I think the more hectic and busy our lives become, the more everyone looks for a sense of peace. I know I find a lot of peace when I imagine living in an Amish home, and not being tied to my computer and cell phone! Amish fiction also has lovely inspirational themes. That brings a lot of comfort too, I think.
This might be hard, but who is your favorite character that you have written?
That is a tough question! I would have to admit that my favorite character is Clara from Spring's Renewal. She was scarred and was a teacher and was strong, too. I really liked her. A close second would be Katie Weaver from the Families of Honor books. She's only five, but kind of a firecracker! She really made me smile!
Which character can you identify the most with?
Boy, that's an even tougher question! If I had to name just one character, it might have to be Anna, from Hidden, my very first Amish book. Anna was an outsider, looking into the Amish world, and of course, that's what I am, too. That said, I usually can identify with some personality trait of my characters. They're all imperfect, and I am, too!
How do you do your research for your books? Do you have Amish friends?
I use the Internet to help with all kinds of research, I read The Budget, and I have a number of Amish friends. I also make sure that I spend time in each setting of my books.
What question have you always wanted to be asked in an interview?
Boy, I can't think of a single thing!
What inspired you to become an author?
I've always loved to read. One day I decided to write my own story, just for myself! I knew I liked to make things up-I never imagined anyone else would be interested in my stories!
What is your favorite thing about being an author?
There are two things. The first is hearing from readers. I love receiving emails and letters. I love meeting readers when they take the time to visit me at book signings.
The second thing I love is actually writing. I love the process of creating a story, and getting to know my characters.
Do you have anything that you would like to share?
I hope your readers will continue on with me for the rest of the series! The Search, the second book in the Secrets of Crittenden County series, takes place just one day after Missing ends. I'm also active on Facebook, and I have a website, where I blog fairly often: www.shelleyshepardgray.com
What's next for you?
Well, after this series ends with FOUND, the next series I will have out is The Day of Reckoning Series. This trilogy will be published in 2013.
Thanks so much for the interview!
---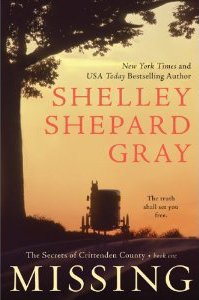 Missing: The Secrets of Crittenden County, Book One
Can two young people survive the suspicions of their friends and neighbors when tragedy strikes a close-knit Amish community?
Perry Borntrager had been missing for months from the quiet Amish community of Crittenden, Kentucky, when his body is discovered at the bottom of an abandoned well. The first death from mysterious circumstances in more than two decades brings the scrutiny of the outside world: A police detective arrives to help the local sheriff with the investigation. His questioning begins with Lydia Plank, Perry's former girlfriend, and Perry's best friend, the Englischer Walker Anderson.
Lydia and Walker know they didn't have anything to do with Perry's death, but they both hold secrets about his final days. Do they dare open up about the kind of man Perry had become? In the oppressive shadow of these dark times, they discover strength in a most unlikely companionship: one that offers solace, understanding, and the promise of something more.
Book is available for pre-order here on Amazon or can be purchased in the Destination Amish Store.
---
Shelley writes Amish romances for Harper Collins' inspirational line, Avon Inspire as Shelley Shepard Gray, writes historical romances for Abingdon Press as Shelley Gray, and has also written for Harlequin American Romance as Shelley Galloway. Since 2001, she's published almost 40 titles.
Along the way, her books have been Holt Medallion winners, Reviewers Choice Winners, and been highlighted in Time Magazine, the Philadelphia Enquirer, and USA Today. She's been interviewed on NPR as well as multiple regional and national radio stations.
Shelley's books have also hit the New York Times and USA Today bestseller lists.
Before writing romances, Shelley lived in Texas and Colorado, where she taught school and earned both her bachelor's degree in English literature and elementary education and later obtained her master's degree in educational administration. She now lives in southern Ohio and writes full time. Shelley is married, the mother of two college students, and is an active member of her church.
Shelley is active on Facebook and also has a website, www.shelleyshepardgray.com.