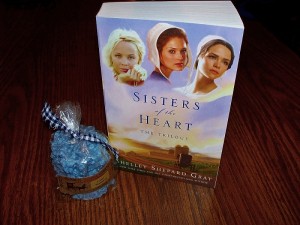 Tomorrow my guest will be Shelley Shepard Gray. I am so excited! In honor of Shelley stopping by, I am giving away her very first Amish fiction books: Sisters of the Heart -The Trilogy! Hidden, Wanted, and Forgiven all in a single volume. Plus, I am adding one of my favorite candles- Amish Heartland Candles from Walnut Creek Candle Company.
Contest Rules
1. Leave a comment at the bottom of this post
2. Like and share on Facebook
Contest starts today 3/1/2012 and ends on Thursday 3/8/2012.
To make things fair, I will be using random.org to pick the winner.
Good Luck and Happy Reading!
Don't forget to subscribe or  follow this website for updates and more contests.
Sisters of the Heart -The Trilogy is also available in my store here.