Recently I visited Lancaster County in early November, where it happened to be a sunny week before the snowstorms began. One of the highlights of my husband's and my visit was to have supper with an Amish friend and her family, who were busy with the last of the jobs that had to be done before the snow flew.
In my Healing Grace series, which is centered on a woman's story and therefore women's work in the home, I enjoy showing the preparation for winter on the page. This involves weeks and weeks of canning and preserving fruit and vegetables, stretching from midsummer to the last of the potatoes in the fall. The bounty of the Amish garden during the summer, with all its color and exuberance, is transformed into bounty in the pantry, with rows and rows of jewel-like canning jars. The Amish fraa's pantry is huge, and organized carefully so that it's easy for her to find what she needs to feed her family, from pickles to beets to carrots, and cherries, rhubarb, and applesauce.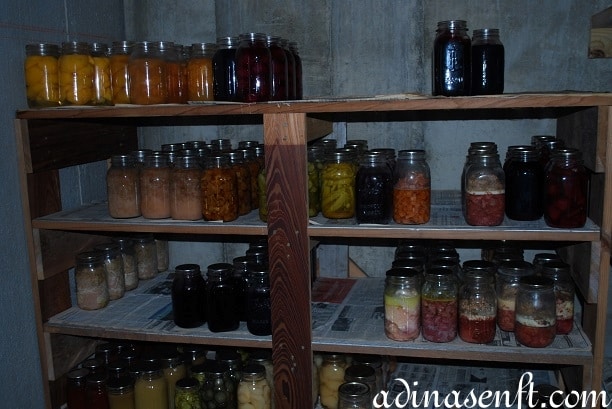 Outside, during the waning days of autumn, the Amish man is not finished with his chores, either. One of these jobs is preparing feed for the cattle, or "silage." After the corn is harvested and stored in big bins, nothing is wasted. The cornstalks and leaves are mowed down, chopped up, and used as feed too. Up in the barn, the children showed me the racks of sprouts under their lamps and misters, which are added to the silage each day to provide needed vitamins and nutrients for the cattle.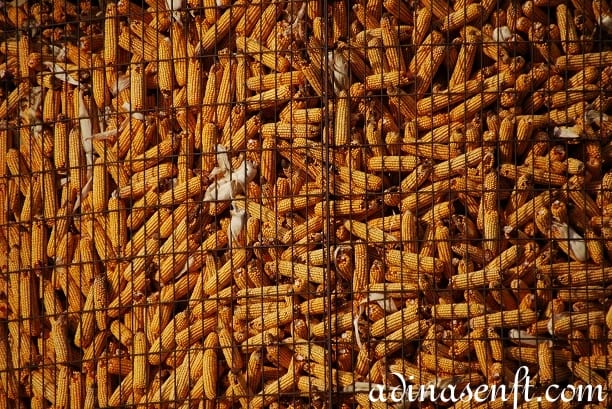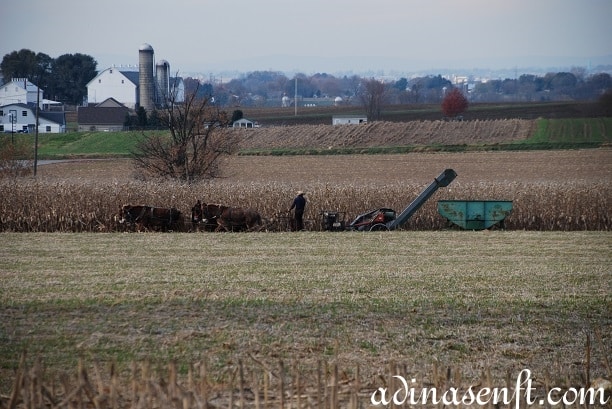 Out in the fields, a look in any direction will find an Amish man and his boys driving a six- or eight-mule hitch, plowing the last of the plants under to provide fertilizer for the next sowing in the spring. Likewise, in the garden, his wife and daughters sow silage radishes, which have lots of nutrients in their leaves and are hardy enough to survive a Pennsylvania winter. The following spring, these are turned under to provide a natural fertilizer for the garden.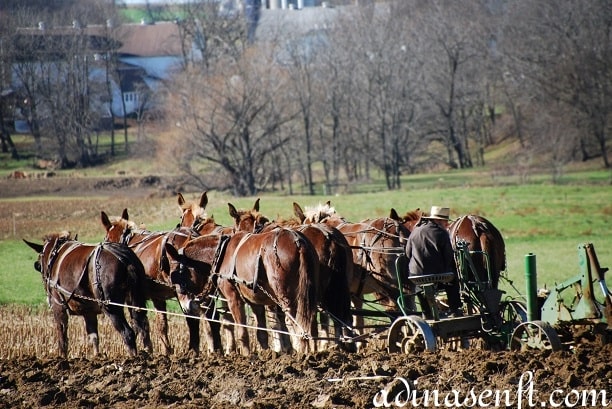 The turning of the season from autumn to winter is beautiful in its own way, and added to that beauty is the hard work and foresight of the Amish farm family, whose skill and love for the soil produce satisfaction and a quiet joy in bringing glory to God.
---
Adina Senft grew up in a plain house church, where she was often asked by outsiders if she was Amish (the answer was no), she made her own clothes, and she perfected the art of the French braid. She holds an M.F.A. in Writing Popular Fiction from Seton Hill University in Pennsylvania, where she teaches as adjunct faculty.
Visit with Adina on Facebook, Twitter, and adinasenft.com