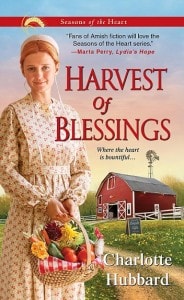 Ever since I read Charlotte Hubbard's Summer of Secrets (first in her Seasons of the Heart series), I've been entranced by her writings. I have become attached to the people of Willow Ridge and was thrilled to be able to return again with Harvest of Blessings. Hold onto your hats, readers, you are in for a wild ride!
Harvest of Blessings tells the story of newly divorced (and very rich) Nora Glick Landwehr, who has returned after 16 long years to reconcile with her family…and the child she left behind as an unwed mother. As accusations fly, unforgiving attitudes seem to rule the day. Yet in the midst of all of this chaos is a quiet, steady resolve of the women of Willow Ridge, trying to change the tide of some of the Old Ways of the community. And then there is Luke Hooley: lover boy extraordinaire, who has taken an unsettling interest in Willow Ridge's newest resident. How will it all come together? Can love and true forgiveness be found in the midst of such turmoil and distress?
I was given Harvest of Blessings in exchange for my honest review. It was extraordinary – I could barely put it down. What sets this novel apart from most of the other Amish fiction novels I have read is Hubbard's portrayal of the female characters. They are shown as strong, quietly assertive women (while still being submissive in their roles within their household and community.) It was refreshing and definitely a new viewpoint that needed to be explored (carefully) in this genre. Hubbard delivered with precision, style, humor and zeal. Harvest of Blessings can be read as a stand-alone, but there are so many references to characters and their storylines from previous books in the Seasons of the Heart series that I highly recommend you get up to pace first. But again, it will be time well-spent. Hubbard writes with excellence and I can guarantee you won't be disappointed. In my opinion, Harvest of Blessings is the best of this series so far.
To Purchase a Copy of  Harvest of Blessings Click Here
---
Susan Ferrell and her husband make their home in the Atlanta Metro area. Although Susan struggles with chronic migraine headaches, she stays very busy as a stay-at-home mom to one very precocious little girl. While catching her breath, she feeds her Amishaholic tendencies by reading vast amounts of Amish literature!