Marrying Jonah – Worth the Wait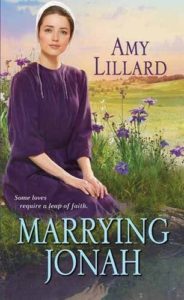 Well it finally arrived! Jonah Miller's story is finally being told! Marrying Jonah, the latest in Amy Lillard's Wells Landing series, is worth the wait. Once you get started, you'll be sucked in.
Jonah Miller is still recovering from Lorie Kauffman's rejection (not only of him, but their entire Amish community.) Sarah Yoder has loved Jonah for YEARS. But those days are over – she's turning over a new leaf and leaving Jonah behind. But the results of one great misjudgment put both of their lives into a tailspin. Will they find true love? Will Jonah stay Amish? He wouldn't be the first to jump the fence from Wells Landing. Will beauty come from the ashes? Read and find out!
I was given Marrying Jonah in exchange for my honest review. It was so worth the wait. At first I was unsure what to make of it – the plot reminded me of another Amish-genre novel I have read recently and it seemed to move slow. And then I realized: NO, it is not like the other novel (at all) – it's better! Lillard steadily created some very unforgettable characters. Marrying Jonah is a solid, well-crafted novel. The characters have rich layers and depth. Before you know it, the novel is over and you're craving for more. The ending was well thought-out and memorable. A definite must-read.
(Although characters from previous novels are mentioned, it is not distracting. This title may be read as a stand-alone, but I highly recommend catching up on the Wells Landing crew!)
---
Susan Ferrell and her husband make their home in the Atlanta Metro area. Although Susan struggles with chronic migraine headaches, she stays very busy as a stay-at-home mom to one very precocious little girl. While catching her breath, she feeds her Amishaholic tendencies by reading vast amounts of Amish literature!