The Amish Widower – Book Four is a SCORE!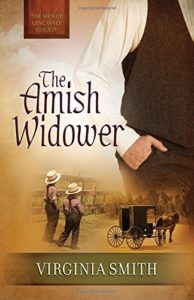 I was excited, yet skeptical, when I heard about The Amish Widower. The first three books in the Men of Lancaster series, by Mindy Starns Clark and Susan Meissner, was amazing. But who could turn down a Book Four in the series? But again, when I saw that it was written by another author, Virginia Smith, I wondered if it could possibly be as good as the other three? OH, YEAH! The Amish Widower is phe-nom-en-al!
Smith takes us on a journey with Seth, twice-the-widower, who has vowed to never marry again. When Seth happens upon a pottery shop, he is immediately fascinated by everything: the pottery process, the older, affable, and potter-extraordinaire Elias…and Elias' terse, Englisch granddaughter Leah. Can Seth ever find peace again? What about making pottery…will his district allow it?
How does Leah fit into all of this? Read and find out!
I was given The Amish Widower in exchange for my honest review. It was stupendous. Do not let the page-count scare you – it is worth every single word. The plot and subplots are richly layered to create a depth that I have not seen in fiction in quite some time. Virginia Smith makes readers fully invested in the story and its characters. It was so refreshing to read a new storyline in the Amish genre – it was not only refreshing, but informative! I couldn't put the novel down. This is definitely among the Top Five I've read this year. Snag your copy now – you won't be disappointed!
---
Susan Ferrell and her husband make their home in the Atlanta Metro area. Although Susan struggles with chronic migraine headaches, she stays very busy as a stay-at-home mom to one very precocious little girl. While catching her breath, she feeds her Amishaholic tendencies by reading vast amounts of Amish literature!