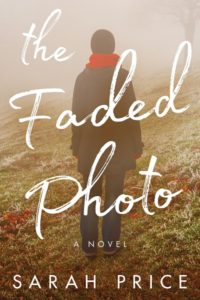 Powerful. Provocative. Poignant. Emotive. That's what this reader has to say about Sarah Price's astounding new release, The Faded Photo. Drawing on her own experience as a breast cancer survivor, Ms. Price has penned a story about a 42 year-old woman who finds herself encountering every woman's nightmare — breast cancer. Frances Snyder certainly has no time in her busy life for breast cancer. However, it found time for her and she sets out to conquer it…alone. She expects perfection from herself as does her family and her dearly beloved "jerk" of a husband. Sorry for the name calling, but Nicholas totally fits that description — too busy with his career to make time for Frances. So she faces chemo alone, successfully keeping her illness a secret. The self-centered jerk … er, Nicholas, rather (sorry), is even too busy to notice she is wearing a wig and so what if she's staying wrapped around the toilet from the ravaging effects of chemo. But God puts an unexpected friend in Frances's life, offering her hope and light in the midnight hour of her soul.
What a thought provoking, eye-opening book this was for me! My emotions were in a tailspin as one minute I wanted to wrap my arms around Frances and the next I simply wanted to shake her! However, she was not unlike so many women…losing her own identity for the sake of her family. I truly thought this would be too dark a read, but actually it was an intriguing one that I finished in two short evenings. I could hardly put it down! Interspersed with humor, insight, and a surprising conclusion, I highly recommend this book to every woman. Not simply a novel about breast cancer, The Faded Photo also deals with a dysfunctional family who needs healing. Sarah Price has truly established herself as one amazingly diverse author — who is able to write anything from Amish, YA, and contemporary fiction with finesse and the ability to totally captivate her audience.
I received a copy of this book from the publisher in exchange for my honest opinion and was not required to write a positive review.
---
Diana Flowers is an influencer/beta reader, endorser, and reviewer for multiple Christian fiction authors, and blogged for Overcoming With God blog for 6 years. She lives in W. Columbia, S C, and has been married 44 years, has 2 children, and 4 grandchildren. Her interests include going to church, reading to her heart's content, writing reviews, gardening, spending time with her grandkids, fitness walking, interior decorating, and the beach!