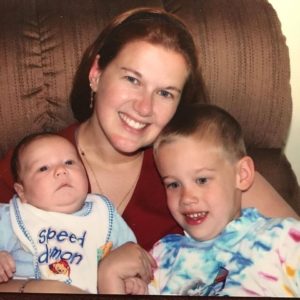 We are celebrating Mother's Day with an interview and giveaway featuring the lovely Amy Clipston! Amy's latest release is The Beloved Hope Chest, the fourth and final installment in the Amish Heirloom series. (Check out Susan's review HERE)
Welcome, Amy!
Do you have any special traditions you used to do with your mom when you were a little girl on Mother's Day?
I remember making my mother gifts at school, and no matter how terrible my artwork was, she still loved it.
Out of all of your novels, who is your favorite mother?
Mattie Fisher from my Amish Heirloom series is my favorite! She's modeled after my mother with her patient, loving heart. My mom and I sit together and have a cup of tea every night, just like Mattie and her daughters do.
What was your most favorite book to read to your boys when they were little?
Zac absolutely loved Big Joe's Trailer Truck by Joe Mathieu! He knew it by heart! It's the cutest book, and I read it to Matt also. We kept it and will pass it on if they have children.
What's one of your favorite memories/stories of your boys with your books? Has anything special you recall been used in one of your books?
For the past four years I've spoken to the 6th grade at my boys' middle school. I don't think I embarrassed them too badly when they were members of the audience. One of my sons doesn't tell many people that I write books, but my other son proudly shares it with friends and teachers. He frequently comes home from school and tells me that the girls in his classes are reading my books. I'm thankful he's not embarrassed by me or my books.
Can you share a special memory of your mother?
My favorite memory as a child is going to the movies with my mother every Saturday. We would go to see a matinee, and we had the best time! My love of movies truly comes from my parents.
This might sound corny, but my mom and I make special memories every day. She lives with my family and me, and she's my best friend. We watch movies and television shows together, and we share books. While I'm working on a book, she sits in the same room and reads in order to keep my company. She helps me plot out my stories and she reads my books for typos. I can't imagine not having her in my life. I'm so thankful God blessed me with the best mom!
Amy is giving away some fun goodies just for YOU! Enter to win by filling out the Rafflecopter below. Good Luck!
---
Amy Clipston has been writing for as long as she can remember. Her fiction writing "career" began in elementary school when she and a close friend wrote and shared silly stories. She has a degree in communications from Virginia Wesleyan College and is a member of the Authors Guild, American Christian Fiction Writers, and Romance Writers of America. She is the author of the bestselling Kauffman Amish Bakery series with Zondervan, which is part of HarperCollins Christian Publishing. An advocate for organ and blood donation, Amy donated a kidney in 2011 at Johns Hopkins Hospital. Through her donation, her husband received a second kidney transplant. Amy and her husband matched another couple and swapped kidneys with them. Amy's memoir, A Gift of Love, will be available in early 2014. She hopes her story inspires others to become organ and blood donors. Amy lives in North Carolina with her husband, two sons, mother, and four spoiled rotten cats. You can find her on the web at www.AmyClipston.com or on Facebook.