The Beloved Hope Chest – Some Bumps, but Worth the Read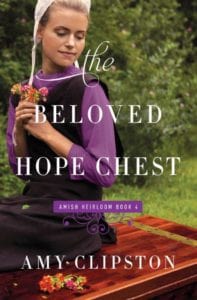 It finally arrived! Mamm Mattie's story is being told by Amy Clipston! The Beloved Hope Chest, the fourth and final installment in the Amish Heirloom series is in the books! I have mixed reviews about this one – so press on.
The Beloved Hope Chest finally reveals Mattie's secrets to her three daughters. There's been a recipe, a picnic basket, and a quilt – somehow they are all tied to Mattie. Not only does the story involved Mattie, but it also involves their father, Leroy. As she unpacks the memories in her mind, a tragic yet triumphant message emerges.
I was given The Beloved Hope Chest in exchange for my honest review. It can be read as a stand-alone, but I highly recommend reading the other three in the series to give better context. While I was thrilled to read Mattie's story, I was a bit disappointed. I've encountered similar stories like this one in the Amish genre – at least four times in the last year. Additionally, I felt that the story could have been told in ¾ of the pages; it tended to drag a bit, and extra "drama" was added with people gasping and mouth gaping open. A longer Epilogue would have been nice, too. But perhaps that was because I didn't want to say goodbye to this series!
Having said all of that above, I will also say that Clipston thoroughly fleshed out the characters. They drew me in and wouldn't let go. I particularly enjoyed the sweet relationship Mattie and her mother shared. And I found Leroy to be such a wonderful character as well – all men should aspire to such living! All in all, I thought this to be a good read. It had a few bumps along the way, but it was well worth the time to finally out the secrets of Mattie's beloved hope chest.
---
Susan Ferrell and her husband make their home in the Atlanta Metro area. Although Susan struggles with chronic migraine headaches, she stays very busy as a stay-at-home mom to one very precocious little girl. While catching her breath, she feeds her Amishaholic tendencies by reading vast amounts of Amish literature!