Written in Love – Please Forward!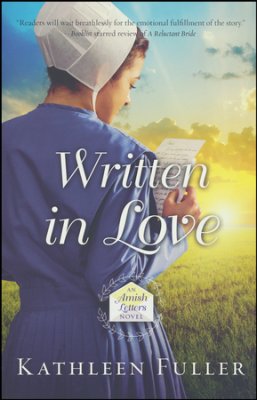 Ahh….It's so lovely to get a new book written by Kathleen Fuller. It's like a breath of fresh air! And so that is how I felt upon holding Fuller's latest release, Written in Love, first in her Amish Letters series. Readers are in for a treat!
Written in Love tells the story of Jalon Chupp and Phoebe Bontrager. The two become pen pals due to a fluke. Each soon realizes that they need these letters – this life-line – in their lives. Yet both of them have secrets – secrets they are haunted by, secrets they fear to trust anyone with. When Jalon makes a surprise visit and shows up unannounced at Phoebe's aunt's door, their worlds collide. Will they be able to weather what heads their way next?
I was given Written in Love in exchange for my honest review. I thought it was fantastic. I loved the feeling that I was peeking in as notes were passed between friends! The storylines were gripping and compelling. I do wish the ending had flowed a bit better – either shorten it, or lengthen the novel as a whole – but overall I was mesmerized by Jalon, Phoebe, their friends, and family. Way to go, Kathleen Fuller!
---
Susan Ferrell and her husband make their home in the Atlanta Metro area. Although Susan struggles with chronic migraine headaches, she stays very busy as a stay-at-home mom to one very precocious little girl. While catching her breath, she feeds her Amishaholic tendencies by reading vast amounts of Amish literature!