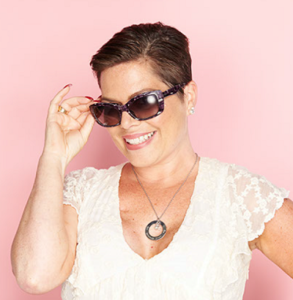 Hi, Sarah. Welcome back to Destination Amish! Tell readers all about your new book, Newbury Acres. I understand it's a satirical parody of Amish romance novels. (Such fun!) Can you elaborate?
Satirical parody sounds so serious, doesn't it???
But it's not. Really.
Newbury Acres is an adaptation of Jane Austen's Northanger Abbey, a classic romance from the early 1800s. While Jane Austen's book is set in English, Newbury Acres is set in an Amish community located in Indiana. And let me tell you…I had a lot of fun writing this book. The characters are so true to life. Real. I like real characters because life is not perfect…for us or for the Amish. We are all flawed so it's always interesting to create characters that really vibrate authenticity.
Anyway, the protagonist, Catherine Miller, is a young Amish woman. She loves to read Amish romances (as many Amish women do in real life). When she vacations in Banthe and starts meeting different young people, she begins to analyze them almost as if she were living one of her romances. It makes for some interesting situations.
Readers who love Amish romances will really enjoy this book because, on a deeper level, it's an Amish romance about Amish romance. And if getting too deep isn't your game, you'll still enjoy the book because it's a fun, light romance—with a few twists and turns—and I bet you'll want more of Newbury Acres, which is coming your way in the form of a weekly series!
Describe your main character, Catherine, in five words. Only five!
Naïve. Sheltered. Romantic. Accepting. Forgiving.
What's a typical writing day look like for you?
There is no such thing as a typical writing day. Ha ha. In the ideal world, I wake up, make coffee, wake up the parrots and feed them, do my daily live stream video, freshen up my coffee, answer emails, and then write.
But that's not how it happens.
This is more like my day:
Wake up. Realize I overslept. Hurry to make coffee. Realize the parrots escaped and are making a mess by flinging bird seed everywhere. Hear Cat scream from the barn because a spider was in her horse grooming kit. Go kill said spider (or free him in the grass if Cat isn't looking). Do morning coffee live stream (late). Save a chicken from being eaten by Cat's dog, Peek-a-boo. Refill bird feeders outside my window (squirrel depleted them overnight). Finally sit down to write and Coco Chanel (my cockatoo) pounces on me, landing on my laptop and deletes whatever I was working on.
I could go on, but I think you get the point.
My house and life is chaos. With horses, dogs, cats, rats, parrots, and a chinchilla, there is no such thing as typical. 😀
These next questions are for fun!
Favorite Amish community to visit?
It used to be Leola, Pennsylvania—just because I've been involved there for so many years and know so many people. But I really fell in love with a small unnamed community outside of Shipshewana, Indiana. I prefer the communities where there are no tourists, where Amish people are just that…people. I've been to communities in Colorado, New York, Ohio, Indiana, Pennsylvania, Missouri, Tennessee, Florida, and Belize. I really liked all of the places, but Indiana stole my heart because of the people.
Fry Pie or Whoopie Pie?
Neither. Unless it's red velvet…then maybe a whoopie pie. Frankly, I prefer Shoo-fly Pie with a big scoop of vanilla ice cream. YUM!
Homemade Rootbeer or Meadow Tea?
Duh. Meadow Tea!!!!!! I LOVE LOVE LOVE Meadow Tea. I try to make it so that it tastes just like my Amish friends' tea. I'm getting there.
Buggy or scooter?
Buggy. Totally. In fact, now that it's spring, I need to dust off my Amish buggy and take it for a stroll. I think I'm going to bring it down to Florida next year. This is the perfect place for driving it around town.
Kindle or paperback?
I go through mood swings on this one. For a while, I'll be all gung ho over Kindle (I prefer the Paperwhite…holds a fantastic charge!). I can take it everywhere and it's very convenient. But then I go through a paperback period…which I'm in right now. The problem is that I MUST read before I go to bed and Marc, the hub, grumbles about the light. He's throwing me off my game…
The other thing that I really like is that Kindles do not waste paper. So I try to buy a lot of my books second hand and, unless they are AWFUL, I donate them back. I'll keep some of them that I really like (such as Jodi Picoult and Phillippa Gregory who are my favorite non-Amish authors!). If I really really hate the book, I have a R.I.P. party and get rid of it. I've done that once this year while I've been in Florida (shudder). The book was bad. Really bad.
Thanks so much for visiting us! How can readers connect with you?
Facebook is my primary cyber residence. As well as Instagram @sarahpriceauthor. My blog is at http://www.sarahpriceauthor.com/journal and I encourage my readers to subscribe to my email list. <3