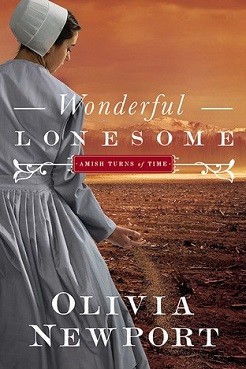 When you get a novel with the front cover showing an Amish woman in the foreground and dry, desolate land as far as the horizon in the background, your mind starts wandering to what it is all about.  Then you couple that with the title, Wonderful Lonesome, and think: This is not your typical Amish fiction novel.  And so was the case with this latest release of Olivia Newport's first in her Amish Turns of Time series.
Wonderful Lonesome is quite a novel.  It's set in 1914 Colorado and follows the lives of a small struggling group of Amish settlers.  There is one amongst them, Abbie Weaver, who is determined to make this settlement thrive.  But can she?  The settlement has no minister and the other families are suffering and losing hope.  Even Abbie's relationship with her love, Willem, is not stable.  How can they possibly make it work?
I was given this book in exchange for my honest review.  I have not read much of Newport's writings, but I will say this was an interesting read.  Very little is written of the Amish during this time period, let alone in Colorado.  For those reasons alone, it is worth adding to your collection.  I will say that I have become very accustomed to a novel that is wrapped up in a pretty little bow at the end.  This novel does not do that, for which I must give proper accolades to Newport for going against the grain.  But at the end of the day, in my own opinion, I do wish it had been a tad more light-hearted.  Wonderful Lonesome can easily be read as a stand-alone.
Susan Ferrell and her husband make their home in the Atlanta Metro area. Although Susan struggles with chronic migraine headaches, she stays very busy as a stay-at-home mom to one very precocious 5-year old. While catching her breath, she feeds her Amishaholic tendencies by reading vast amounts of Amish literature!
Pick up a copy of Wonderful Lonesome: (Amish Turns of Time) here.