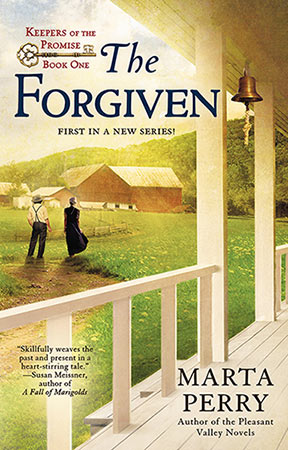 I am a newbie when it comes to the writings of Marta Perry.  So when I received a copy of her latest release, The Forgiven (first in her newest series Keepers of the Promise), I went in with eyes wide open.  The Forgiven is certainly different than most of the other novels I have read in the Amish genre and I could tell from the first few pages that it was going to be an interesting read.
The Forgiven is basically two stories in one.  The first is set in current day and follows the trials of Rebecca Fisher, who is still struggling to find her place in the world, while coping with the death of her husband, raising her two young children and making ends meet.  When a friend from the past, Matthew Byler, comes on the scene (with secrets he'd prefer buried), can he help Rebecca find her way?
The other storyline is set in 1941 and focuses on Anna Esch and her diary entries (found by present-day Rebecca.)  Anna's plain and simple life is rocked to the core with the impending World War.  She has an Amish beau, but can their relationship survive all of the upheaval of their Amish community – of the world?
I was given this book in exchange for my honest review.  The Forgiven was an intriguing read.  But, I do not feel that the two storylines melded together very well.  Each character was well-developed, but the back and forth between present day and 1941 seemed forced.  I think this novel could easily have been broken into two novels, the storylines fleshed out a bit further, and it would have had a much greater affect.
Susan Ferrell and her husband make their home in the Atlanta Metro area. Although Susan struggles with chronic migraine headaches, she stays very busy as a stay-at-home mom to one very precocious 5-year old. While catching her breath, she feeds her Amishaholic tendencies by reading vast amounts of Amish literature!
Pick up a copy of The Forgiven: Keepers of the Promise here.