The Sound of Distant Thunder – Terrific Start to the Series!
I was enchanted by Jan Drexler's Naomi's Hope, and so I jumped at the chance to read her latest release, The Sound of Distant Thunder, first in her Amish of Weaver's Creak series. I wondered though: Could Drexler deliver a new series, set in a different era…even if it is Amish? Yes!
Set in Civil War era Ohio, The Sound of Distant Thunder follows several interesting characters:
Katie – is in love with the very thought of love. She's passionate and opinionated…and wants nothing more than to marry Jonas.
Jonas – is older than Katie, but long to please her (even though Katie's parents insist on them waiting to marry.) He's started building their dream home. But when his married brother's name comes up for the war draft, Jonas volunteers, hoping to make a difference against slavery…and hoping to finally be at peace.
Levi – is a solid guy that loves the church, cherishes his friendship with best friend Jones…and secretly loves Katie. Levi has been tasked by Jonas to take care of Katie in his absence…how could he not?
I was given The Sound of Distant Thunder in exchange for my honest review. I'd say that Drexler is off to a terrific start in the series. Although, it takes a bit of time to get into the storyline. Each character was winsome in his or her own way. Strangely enough, I found myself rooting for ALL of them, even though they had different objectives! I can't wait to read Book Two.
---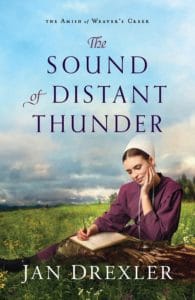 From the talented pen of Jan Drexler comes a brand-new Amish series set against the backdrop of the Civil War.
War threatens everything the Amish Community in Weaver's Creek, Ohio, holds dear, including a young couple's future. Katie Stuckey and Jonas Weaver are both romantics. Seventeen-year-old Katie is starry-eyed, in love with the idea of being in love, and does not want to wait to marry Jonas until she is eighteen, despite her parents' insistence.
Twenty-year-old Jonas is taken in by the romance of soldiering, especially in defense of anti-slavery, even though he knows war is at odds with the teachings of the church. When his married brother's name comes up in the draft list, he volunteers to take his brother's place. But can the commitment Katie and Jonas have made to each other survive the separation?
Drexler puts her characters to the test as they struggle to reconcile their convictions and desires while the national conflict threatens to undermine and engulf their community.
Click HERE to purchase a copy of The Sound of Distant Thunder (The Amish of Weaver's Creek)!
---
Susan Ferrell and her husband make their home in the Atlanta Metro area. Although Susan struggles with chronic migraine headaches, she stays very busy as a stay-at-home mom to one very precocious little girl. While catching her breath, she feeds her Amishaholic tendencies by reading vast amounts of Amish literature!
---