Special guest post by Melodie Davis
Apple Crisp: Are desserts a daily occasion?
When people think of Amish cooking it may be common to think first of the treats we see in Amish restaurants or tourist bakeries: pies, cakes, cookies, donuts, sweet rolls, breads, and a whole array of delicious desserts.
Several years ago when we at MennoMedia began working on creating a cookbook with Lovina Eicher, the weekly columnist for Lovina's Amish Kitchen, we desired a well-rounded (no pun intended) cookbook touching on all the food groups and not just the favorite one for many of us: desserts or sweets.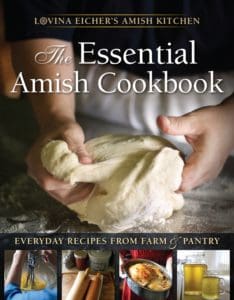 Lovina surprised me by saying that she does not serve pies, cakes, or rich desserts to her family every day. Her family usually reserves those special desserts for birthdays, weddings, family reunions or gatherings like quiltings or other larger occasions (a barn raising?). She allowed that her family does try to keep cookies on hand for simple desserts or snacks for every day, or to pack in lunches for school or work.
It was refreshing to hear that. As the North American diet has changed to include foods from a variety of ethnic traditions, it impacts the Amish too. As Amish travel and eat out in a variety of places, they begin to enjoy and duplicate at home recipes for pizza, tacos or taco salad, salsa, burritos, and more. And of course they have always, especially in the growing season, eaten plenty of healthy fresh fruits and vegetables—and canned or preserved them for winter.
Lovina says this recipe is one of her mother's original recipes—and I'm sure a favorite using crispy fall apples. She says, "We would pour cold milk on the warm apple crisp. Now we serve ice cream with it, but when I was young, we didn't have a refrigerator so we couldn't keep ice cream" (The Essential Amish Cookbook, Herald Press, 2017, p. 186).
This recipe has the benefit of also being very simple and basic, and has fewer calories because there is no crust. I want to taste it now!
Be sure to comment below to be entered into the giveaway for one free copy of The Essential Amish Cookbook! Don't forget to share this post with your friends! One winner will be selected at random and announced on Monday, August 20th.
*Giveaway starts today, Monday, August 13th and ends Monday, August 20th and is only open to US residents*
Apple Crisp
9 cups apples, peeled and sliced
1 cup sugar
2 tablespoons ground cinnamon
Crumb topping
¾ butter or margarine, cubed
1 ½ cups white sugar, (or brown or a combination)
2 cups flour
2 tablespoons ground cinnamon
In a large bowl, toss together apples, sugar, and cinnamon. Pour into buttered 9 x 13 inch baking dish.
Using the same bowl (if you wish), combine all crumb topping ingredients with a pastry cutter or two forks, mixing until coarse. Spread over apples.
Bake at 350 for 45-50 minutes, or until browned and bubbly and apples are tender.
Connect with the editors for Lovina through social media below. We also print and send emails to her periodically.
Blog: http://www.lovinasamishkitchen.com/
Facebook: https://www.facebook.com/LovinasAmishKitchen/
Email: [email protected]
*Photo credit to Lucas Swartzentruber-Landis for apple crisp*
---