The Devoted – a Magnificent Masterpiece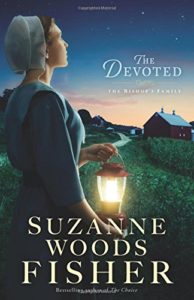 I was delighted that a simple title, The Devoted, appeared on my Kindle! Those two little words meant so many things: Suzanne Woods Fisher had a new release (oh yeah!), the third book in The Bishop's Family series had finally arrived, and…I was about to lose some serious sleep over the next couple of days!
Suzanne Woods Fisher has brought her readers back to Stoney Ridge. This time we are tracking with the fastidious Ruthie Stoltzfus. Her mind and heart are practically bursting at the possibilities that could await her – a difficult thing to temper when your father is the bishop! We also get a better glimpse of Ruthie's aunt Ruth – prodigal child and now local doctor.
Don't worry, lots of supporting characters are back too: the discerning bishop David, effervescent and bubbly Birdy, jilted Jesse, and what Bishop's Family series would be complete without the mischievous man-child Luke? Will that guy ever learn?
I was given The Devoted in exchange for my honest review. I recommend getting caught up on the series before starting this one, as many of the characters and their stories are brought over from the previous books. I found myself completely absorbed in the plot lines of The Devoted. Although very different from the first two books in the series, it is a phenomenal read. Suzanne Woods Fisher manages to expertly weave the storylines together to create a magnificent masterpiece. The Bishop's Family series has left me enchanted and longing to return to Stoney Ridge again soon!
---
Susan Ferrell and her husband make their home in the Atlanta Metro area. Although Susan struggles with chronic migraine headaches, she stays very busy as a stay-at-home mom to one very precocious little girl. While catching her breath, she feeds her Amishaholic tendencies by reading vast amounts of Amish literature!