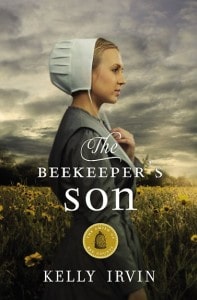 The Amish fiction genre has exploded over the last few years. Lewis and Brunstetter used to lead the pack and then there were a few outliers. Some of the newer authors, like Kelly Irvin, have set themselves apart – in a good way. As a reader, it is often difficult to discern what will be "a good one." Will it be well-written? Will it be another boy meets girl, they go to a singing and they all make sure to say "wunderbar" a few dozen times? Thankfully, Irvin knows her stuff and delivers with her latest release, The Beekeeper's Son, the first novel in The Amish of Bee County series.
The Beekeeper's Son tells the story of Phineas King, a young Amish man who is horribly scarred, both inside and out from an accident in his youth (that also killed his mom.) He has his most immediate family around him, especially the unwavering support of his kind-hearted father Mordecai, but otherwise he stays pretty much to himself – and his family's beekeeping business. Solitude is his closest friend…until the Lantz family arrives.
When Deborah Lantz and her family arrive in Bee County, Texas, she can't wait to leave. Her plans are to help settle her mom and the rest of her family and then she is back to her home in Tennessee. She should receive a letter at any moment from her love, Aaron, requesting her hand in marriage. But that request never comes, and she finds that Phineas captures her attention in ways Aaron never had.
The Beekeeper's Son is so well crafted. Each character is richly layered. I found myself deeply invested in the lives of both the King and Lantz families. I struggled as they struggled, laughed as they laughed – and even cried as they cried. I was given this book in exchange for my honest review. This is one of the best novels I have read in the last six months. It's a refreshing read and worth every penny. The Beekeeper's Son is a keeper for your bookshelf!
To Purchase a Copy of The Beekeeper's Son Click Here
---
Susan Ferrell and her husband make their home in the Atlanta Metro area. Although Susan struggles with chronic migraine headaches, she stays very busy as a stay-at-home mom to one very precocious little girl. While catching her breath, she feeds her Amishaholic tendencies by reading vast amounts of Amish literature!