I'm sitting here in sunny South Carolina, watching the weather forecast which tells me that at home in our central Pennsylvania valley, still more snow and cold weather is predicted. Any guilt I feel at enjoying the sunshine while my friends back home are shivering is balanced by the reminder that I couldn't do anything about all the snow if I were there! Still, there are some things I miss about a snowy winter. The world is never so quiet and peaceful as when it is blanketed in new-fallen snow, and sitting in front of a wood fire is even more enjoyable when the winter winds are howling outside the windows of our farmhouse.
One of the special pleasures of winter is snuggling down in a comfy chair with a good book, don't you think? One of my librarian friends often comments on how many of the library's Amish patrons come in during the winter, even when the snow makes it difficult to travel. Because they are so busy during the growing season, many Amish find special pleasure in reading during the cold weather, and it's a time to catch up on things one doesn't do when outside chores demand the attention.
While I've done my share of reading so far this winter, I've also been busy working on a new Amish romantic suspense novel, and I thought you might be interested in the special challenges that go along with putting Amish characters in particular into dangerous situations. For instance, an Amish woman isn't likely to know karate, and even if she did, she wouldn't strike another person. A belief in non-violence can be a stumbling block to the kinds of solutions a suspense author might normally come up with!
But I think that makes the writer stretch a bit to come up with a story which is credible but at the same time gives the reader the sense of danger and excitement she looks for in a romantic suspense novel. In the book I'm working on now though, I realized that there are some advantages to dealing with an Amish protagonist in a dangerous situation. For instance, my character won't be able to reach for her cell phone to call the police when she senses someone following her, which makes her reactions even more crucial.
My new romantic suspense series, the Secrets books, start March 1st with WHERE SECRETS SLEEP, coming out from HQN Books. It will be followed by WHEN SECRETS STRIKE, the book I've been writing this winter, which will come out in the fall. I hope you'll look for them and let me know how you like them. You can reach me at [email protected].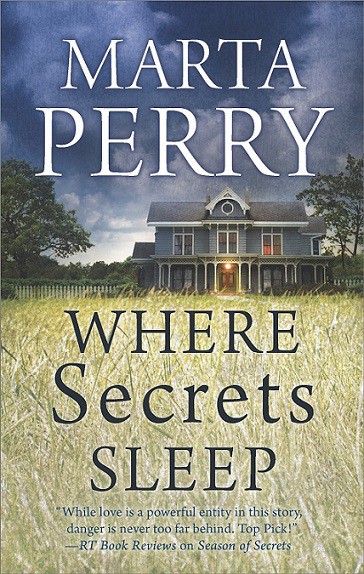 ---
Marta Perry is the author of over fifty novels of inspirational romance and romantic suspense, with over six million copies of her books in print. She writes the Pleasant Valley and Keepers of the Romance Amish series for Berkley Books, Amish Romantic Suspense novels for HQN Books, and novels and novellas for Love Inspired and Love Inspired Suspense.