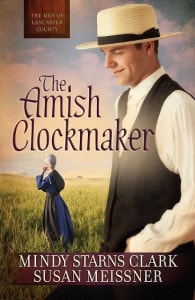 When I read the synopsis for The Amish Clockmaker (Book Three in The Men of Lancaster County series by Mindy Starns Clark and Susan Meissner), I knew it was a book I wanted to read. After reading the first chapter, I was completely reeled in – hook, line, and sinker – and could scarcely put the book down until I finished it. Just when you think you that the Amish fiction genre has exhausted every story line, a jewel like The Amish Clockmaker comes along. It's incredible!
When Matthew Zook starts to expand his family's business, a surprising dispute over some of his land ensues. As Matthew tries to get to the bottom of the problem, he discovers a decades-old mystery. Clayton Raber, the Amish clockmaker who lived and worked in Matthew's place some fifty years earlier, left the Amish community after he was accused of murdering his wife. Although the Englisch dropped their charges, the Amish (both the community and his family) believed that he was guilty. Forsaken, Clayton leaves and is never heard from again. It is now up to Matthew to try and unwind the hands of time and unravel the story of the clockmaker.
I was given this book in exchange for my honest review. Although The Amish Clockmaker is the third book of the series, it can easily be read as a stand-alone. I became a fan of Starns Clark with her and Leslie Gould's series (The Women of Lancaster County), so Meissner was new to me. Well, Meissner has a new fan! The storyline was incredible and honed to perfection. The readers are transported back in time and walk each painful step with Clayton. It is a story of passion, endurance, justice and forgiveness. You will agree when you read all 340 pages – it's worth every minute. The Amish Clockmaker is one of the best novels I have read in the last year, hands down.
To Purchase a Copy of The Amish Clockmaker Click Here
---
Susan Ferrell and her husband make their home in the Atlanta Metro area. Although Susan struggles with chronic migraine headaches, she stays very busy as a stay-at-home mom to one very precocious little girl. While catching her breath, she feeds her Amishaholic tendencies by reading vast amounts of Amish literature!