Q&A with Cindy Woodsmall
author of
Ties That Bind
On sale date: 09/08/2015
Tradepaper ISBN: 9781601426994
e-Book ISBN: 9781601427007
WaterBrook Press, an imprint of Penguin Random House LLC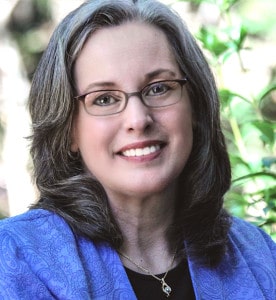 Q1. Ties that Bind is the first book in the Amish of Summer Grove series and it takes us into the world of an Old Order Amish family. What did you like about writing Ariana's character and is she based off someone in your own life?
My portrayal of Ariana is based on a young woman some of my Amish friends have been telling me about for years. Ariana's love for others is like a cup that runs over with goodness. But that doesn't stop her from having challenges, especially with someone who seems determined to take loved ones away from her and from the Amish community. I'm enjoying slipping into the skin of someone who is so sincere and obedient. It's interesting to see how even good traits must be tempered. Ariana longs to fully trust the things that come natural for her—blind faith and steadfast obedience.
Q2. In Amish culture, their adherence to the Old Order provides their identity. What do you think are the strengths and weaknesses of this approach to life?
I admire their ability to take the hard road and how they do all they can to make sure the next generation follows them. They have spiritual, emotional, and physical fortitude to do what they believe is right. I think one of their greatest challenges is their fearful obedience to the Ordnung—the rules by which they live. Sometimes it seems as if they believe the Ordnung came straight from God, so they don't dare challenge it. For example, women wear head coverings because the Word of God addresses that topic, and they interpret the Word literally. I applaud that level of faith and discipline. But all the women wear their hair parted in the middle and in a tight bun because the Ordnung declares that's the way it needs to be, even though there's nothing in the Bible about that. Many of the women say they do it out of respect for their elders or parents. But since no one dissents from such practices, I have to wonder if they obey these rules out of fear of displeasing God, of embarrassing loved ones, or of being shunned.
Q3. We have seen a rise in the depiction of Amish communities in entertainment. TLC's "Breaking Amish" is one prominent example. Many of these shows focus on the desire for young people to leave a very harsh and restrictive environment. Do you believe this is a fair portrayal of the Old Order? Does it tell the whole story?
Several Amish have told me that the decision of whether to stay Amish or leave is a very real one for almost every one of them. The journey to making that decision is as liberating as it is imprisoning. But since even posing for a snapshot is forbidden for faithful Amish, the show's producers had to find young people who were very rebellious and had either made the decision to leave or had already left, and pay them to be on television. The premise of the first season was to take viewers on the journey with the young people, but in truth, most of the cast had left their communities years earlier. Only a few of the most dissident Amish were willing to be on television, and because of that heightened rebellion toward the Old Ways, viewers didn't see a fair portrayal of the decision-making process. Still, there are certain truths seen in the show—like the great divide between those who stay and those who leave, the pain of disappointing one's entire family, and the reality of burning bridges that will take years to rebuild—if rebuilding is even possible.
Q4. In writing the Amish of Summer Grove series, can you see the whole plot stretched out in front of you or is it a blank canvas, where the picture slowly takes shape with each book?
For this series, I can only see a few chapters at a time. When I get six or seven chapters written, I know what's going to take place over the next few chapters. The main Amish characters in this series experience that awful sensation we've all felt at times: that the world is falling apart—not just their world, but the world as a whole. What happens to the minds and hearts of faithful Amish people when they can't escape a reality that defies the usual peacefulness of Amish country? We, as non-Amish, experience some of this on a daily basis. Our faith community helps keep us ready for the daily battles. But what would happen to us if all of that were removed? When that happens to the Amish, life can feel apocalyptic. I don't know how the series will end, because the characters haven't gone through the dismantling of their worlds yet. They haven't realized what doubt can do to a soul.
Q5. In a culture that seems so removed from the outside world, what can we learn from the ways of the Plain people?
There is power in a unified, concerted effort to stand against self-indulgence. The Amish way of life challenges us to consider more than the mantra of self-discovery and self-rule. When we get a peek into their world, we can understand how and why they put sacrificial action behind their beliefs. We take a journey into a world that struggles to uphold all that the previous generation valued, yet they have witnessed the devastation of trying to keep too tight a grip on the next generation. The heart cry of the faithful in every generation, whether Amish or English, is to do what we believe is best for the family, the faith community, and the people we influence. The determination and trials of the Amish are a clear depiction of our own struggles with the world around us.
Q6. Why are you personally drawn to Amish fiction and what drives you to keep telling these remarkable stories against this backdrop?
While growing up in Maryland, I had a best friend who was an Amish-Mennonite. That meant they were "Plain." The women wore prayer caps and cape dresses, and the families were nonresistant (pacifists) and lived very minimalistic lifestyles. The moment I stepped inside my friend's house, I noticed a lot of differences between her home and mine. Their culture and value system were quite dissimilar to mine, even though I was raised in a God-fearing, conservative home. Our friendship continued for years, until my parents moved to a different region of the US. But my fascination with the Amish as a fourth grader continued into my teen years. So when my parents moved back to Amish country when I was an adult, I reconnected with the Plain community. Whenever I stay with friends who are Old Order Amish, I find myself digging deep to understand who they are and comparing that to who we are as non-Amish believers—and discovering where those two worlds meet.
---
Thank you so much for the interview, Cindy!
I have WONDERFUL news everyone…the lovely folks at WaterBrook Press are giving away THREE copies of Cindy's latest book, Ties That Bind to THREE lucky winners. Want to enter? Of course you do!
To enter, leave a comment…easy peasy! For an EXTRA chance share this post and leave a comment if you do.
Giveaway starts today, Wednesday, September 16th and ends Wednesday, September 23rd.
*Giveaway is only open to US residents*
Ariana's comfortable Old Order Amish world is about to unravel. Will holding tightly to the cords of family keep them together—or simply tear them apart?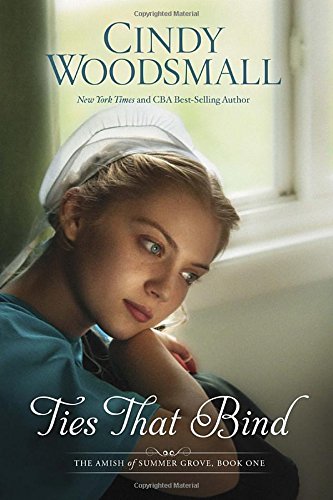 ABOUT THE AUTHOR:
CINDY WOODSMALL is a New York Times, CBA, ECPA, and USA Today best-selling author who has written over a dozen works of fiction and one nonfiction book. Her connection with the Amish community has been widely featured in national media outlets, including ABC "Nightline" and The Wall Street Journal. She's been a finalist for the prestigious Christy, Rita, and Carol Awards, Christian Book of the Year, and Christian Retailers Choice Awards. Cindy and her husband reside near the foothills of the North Georgia Mountains.