Can Life Get Good Again?
Years ago, I met a twelve-year-old Amish boy named Zack, the middle child in a very big family. Zack was small for his age, but you wouldn't know it by his larger than life personality. His ear-to-ear grin could light up a room—and that's worth a lot. If you've ever been in an Amish farmhouse on a cloudy day or in the evening, you know how dim the lighting is.
A few weeks later, I learned from a mutual friend that Zack's best friend had been fatally hit by a car on his way home from school. Zack was griefstricken, overwhelmed by loss. As months passed, his parents grew increasingly worried. Zack's grieving had deepened, displayed by alarming behaviors. That summer, Zack's parents admitted him into a facility where he could get help before he tried to hurt himself.
Over the last decade, mental health facilities have sprouted up in rural Amish and Mennonite communities. Counselors speak Penn Dutch, and faith is a central part of the healing process.
Surprised? If so, that's understandable. Most of us assume the Amish live idyllic lives. It seems they have come to personify a goodness, a healthy wholesomeness, that's missing in much of the world.
But it's a mistake to assume the Amish don't have problems. While the statistics for anxiety and depression among the Amish are lower than the national average, they're not impervious to the stresses of this broken world.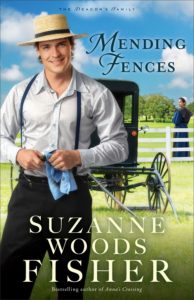 In Mending Fences, Luke Schrock is fresh out of rehab (three stints!) and ready to come home to Stoney Ridge. As much as Luke would like others to forgive and forget, it's not that easy, even for the Amish. Oh, sure, they forgive him. That's part of being Amish. But they can't quite forget the damage he caused during his downward spiral of drugs and alcohol. Bishop David Stoltzfus and Deacon Amos Lapp don't want Luke to forget, either. They insist that he make amends with each person he hurt—steps 8 and 9 of the Twelve Step Program. David and Amos both know that lasting recovery and full healing start from there.
No small task for Luke, who would prefer a quick fix. Plus, he's distracted by Izzy Miller, a dark eyed beauty who lives at Windmill Farm and seems immune to his charms. Just when Luke thinks things can't get much worse, Izzy reveals a secret that causes them both to confront their past—and their feelings for each other.
What to know what happens next? Consider yourself invited to enter a giveaway to win a copy of Mending Fences.
And as for my young friend Zach…he is now eighteen years old and doing…great. Just great! Strong and sturdy, whole and healthy.
That's what can happen if you get help when you need it. Life can get good again.
---
Thanks for stopping by Destination Amish, Suzanne! As mentioned, Suzanne is giving away a copy of Mending Fences. How great is that? To enter, leave a comment below. Easy peasy.
Giveaway starts today, Tuesday, February 5th and ends Tuesday, February 12th and is only open to US residents. One winner will be selected at random and announced on Wednesday, February 13th in the comment section of this blog post. Good luck and don't forget to share this giveaway with your friends!
*Thank you to Revell Books for sponsoring this post.*
---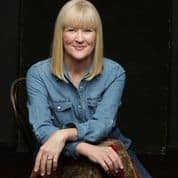 Carol award winner Suzanne Woods Fisher writes stories that take you to places you've never visited—one with characters that seem like old friends. But most of all, her books give you something to think about long after you've finished reading it. With over one million copies of her books sold worldwide, Suzanne is the best-selling author of more than thirty books, ranging from non-fiction books, to children's books, to novels. She lives with her very big family in northern California.
---