Love Bears All Things – A Riveting Read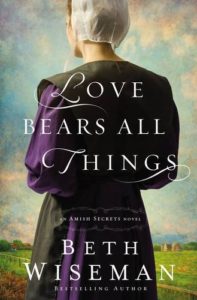 Okay. Seriously? I'm beginning to think that Beth Wiseman may be enjoying her writing a bit too much these days – and torturing her readers in the process! All of this is in the best of ways, of course. Just as I was wishing for the next of her Amish Secrets series to be published, Love Bears All Things arrived. I was in the middle of reading another novel, but decided I would just read the first page…maybe just the first chapter…okay, I read the first 50 pages – I couldn't put it down!
Love Bears All Things continues the story of Charlotte Dolinsky, who has returned to Texas. She's licking her wounds as she recovers from a breakup with her boyfriend. When one of her Amish friends unexpectedly shows up on her doorstep, she's thrust into the middle of a family in crisis.
Daniel Byler is trying to overcome the sting of his own breakup. When his sister is at risk of being shunned, his only choice is to join forces with Charlotte – someone he is disgusted by and does not trust.
Can Charlotte and Daniel bring peace to the Amish families involved? Can Charlotte and Daniel find their own personal peace…and perhaps discover something new along the way? Read and find out!
Love Bears All Things is a riveting read. I was given my copy in exchange for my honest review. The characters and storyline drew me in from the first pages to the very last. Wiseman excels at storytelling and Love Bears All Things is no exception. I highly recommend reading Book One (Her Brother's Keeper) before starting Love Bears All Things, as the two books are so intertwined. Wiseman has left me begging for more. I can hardly wait to see how she will continue this series. It's a definite keeper for your personal home library!
---
Susan Ferrell and her husband make their home in the Atlanta Metro area. Although Susan struggles with chronic migraine headaches, she stays very busy as a stay-at-home mom to one very precocious little girl. While catching her breath, she feeds her Amishaholic tendencies by reading vast amounts of Amish literature!