The Forgotten Recipe – Delicious!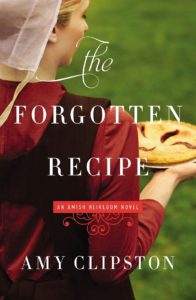 Two, Three, One. This is not how I like things done. But that's what happened to me when reading Amy Clipston's Amish Heirloom series. I started with Book Two (The Courtship Basket), and then moved on to Book Three. But my appetite wasn't satiated until I read the WHOLE series, including the book that started it all: The Forgotten Recipe. It's deliciously wonderful!
The Forgotten Recipe follows the story of Veronica Fisher – a young Amish woman, thrilled to be marrying the love of her life, Seth Lapp. When Seth is tragically taken from this world, Veronica doubts that she can or ever will find a love like she did with Seth again. In her despair, she discovers some of her grandmother's recipes. Amongst the recipes is one for a raspberry pie that has people – especially a new customer named Jason Huyard – clamoring for more.
Jason Huyard worked with Seth and has been grieving and reliving Seth's death over and over again. When Jason seeks out Seth's grieving fiancée – to find solace and give comfort in the midst of their sufferings – he's thrown for a loop when he finds himself attracted to Veronica. He means well, but he can't bring himself to tell Veronica about his friendship with Seth…so he just keeps buying pie. But how long can THAT last?
It took me a while, but I finally got to The Forgotten Recipe! Oh, how I wish I had read it first! So many small details clicked into place after reading it! Amy Clipston, as usual, continues to be a master storyteller. I was inexplicably drawn to both Veronica and Jason's struggles and plight. The depth of the familial characters surrounding the main characters are well thought-out and captivating. Truly, The Forgotten Recipe is deliciously wonderful. I cannot wait for Book Four in the series to release! (And for the record, that will be for me reading order Book Two, Three, One, then Four…narrisch!)
---
Susan Ferrell and her husband make their home in the Atlanta Metro area. Although Susan struggles with chronic migraine headaches, she stays very busy as a stay-at-home mom to one very precocious little girl. While catching her breath, she feeds her Amishaholic tendencies by reading vast amounts of Amish literature!