"I'm just saying, you guys were laughing and talking and hobnobbing all coupley-like".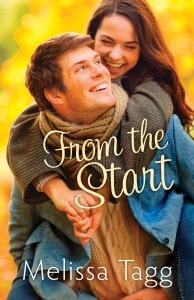 This is what I'm talking about. This is a Melissa-ism. It's the way she talks. It's the way she writes. Cute, endearing, smile-provoking Melissa-isms.
Each book Melissa writes gets better and better. Her characters continue to become more developed and From the Start is no exception. The story is sweet. The humor is gigglicious. The characters–well–swoonily romantic. But, their stories. Their stores are so real. Like many of us, their pasts are a roadblock to their futures.
From the Start  will take your heart in many directions…and you will find yourself beginning to wonder the final destination.
Melissa writes beautiful love stories. Love of family. Love of friends. Love of the dreamy guy (smiles). Most of all, she tells the story of God's love and how all other love flows through Him.
<3
To Purchase a Copy of From the Start Click Here
---
Lisa Bull sees her life as a journey along God's divine plan. While considering herself an expert on nothing, she enjoys laughing and has made "choosing joy" her motto. Lisa has experienced God's unfailing love and grace in her life and wants nothing more than for others to enjoy that same gift in their lives.
Lisa is the daughter and granddaughter of ministers. She has multiple relatives in ministry on both sides of her father's family including several pastors, pastor's wives, and missionaries. In fact, ministry in her maternal grandmother's family can be traced back several generations. She loves being a wife and mother of two terrific young men.
Visit Lisa at mommalisaof2-LISA'S PERCEPTIONS
…Lisa Bull Reviews From the Start by Melissa Tagg