Janice Kay Johnson is here today to chat all about her new book! To celebrate the release of FINDING HOPE (A Tompkin's Mill Novel Book 3), Janice's awesome publisher is giving away a copy of the first book in the series, TURNING HOME, to one lucky reader. See details on how to enter at the end of her interview!
Thanks so much for visiting Destination Amish, Janice! Tell us about your new book, FINDING HOPE.
FINDING HOPE continues my theme of the push-pull between the outside (Englisch) world and the commitment the Amish have made to keep to themselves so as not to be distracted from their faith. After his wife died in a car accident caused by an Englisch friend, Gideon Lantz is afraid to fall in love with a woman torn between her Amish heritage and her life out in the world. Hannah explores the Amish life that should have been hers, had she not been stolen away from her Amish father, but does she have the courage to choose "the narrow way," a life based on faith, and the restrictions and joys that come with it?
Which character in your new release is your favorite? Why?
I admit I fell in love with Gideon the minute I introduced him in MENDING HEARTS. He's one of those guys who buries his emotions deep and is reluctant to talk about them yet is a softie with his two children. For their sake and his, he moved away from his extended family, only to find temptation in an Englisch woman who might in the end make the decision to leave them and return to a familiar life.
Do you have a favorite scene or quote that you would like to share?
Not a very brave person myself, I love the scene where Hannah drives a buggy to Gideon's house the first time. Do you know how small and frail those buggies are compared to the big steel cars and SUVs most of us drive? Imagine a giant pickup truck sweeping by! Her decision to abandon her car for horse and buggy was definitely an act of faith!
What is the message you want readers to take away from reading FINDING HOPE?
In a novel like FINDING HOPE, the characters seek not only faith, but the certainty of trust and the virtues of goodness, patience with the mistakes we all make, and the ability to depend on each other that should go with trusting in God. Urban Americans are so often essentially alone even in the midst of crowds. Part of what Hannah finds in Tompkin's Mill is a caring community that will never let anyone among them fall without reaching out to help. What can be more hopeful than that?
These next questions are for fun!
Favorite Amish community to visit?
Jamesport, Missouri. I've set all my romances with an Amish background in northern Missouri. I confess I've never been to Pennsylvania or any other of the more populous Amish communities, although I hope to change that in the near future.
Fry Pie or Whoopie Pie?
Fry Pie. I don't love foods that are gooey sweet.
Buggy or scooter?
Buggy! I was a horse crazy kid and would still have a horse if I could.
Kindle or paperback?
Paperback! I do read on a Kindle, but I still prefer books and have bookcases in just about every room in the house. Moving with all my books isn't fun, though…
Thank you for the interview! How can readers connect with you?
They can reach me via my website, JaniceKayJohnson.com, email at [email protected] or my Facebook page, https://www.facebook.com/AuthorJaniceKayJohnson.
ABOUT FINDING HOPE

In this heartwarming and affecting Amish romance, a young woman has the chance to begin a new life in the Amish community after old betrayals come to light.

Hannah Prescott was used to the transitory life—her mother had always been a wild child, and throughout her life, Hannah became used to taking care of someone who never settled down. But everything changes when Hannah receives the startling news that her mother stole her away from her biological father and the Amish community at a young age.

Although heartbroken and confused, Hannah decides that in order to find out who she is, she needs to find out who she could have been. This includes not only a relationship with her father, but also the chance to make a connection with a young widower who recently moved to the settlement with his children. While her mother still disdains the Amish, and her new community is wary of outsiders, only Hannah can know if she's brave enough to commit to a fresh start and a real home.
---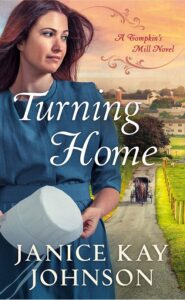 To enter to win a copy of TURNING HOME (A Tompkin's Mill Novel Book 1), leave a comment below. Easy peasy!
Giveaway starts today, Wednesday, July 7th and ends Wednesday, July 14th and is only open to US residents (sorry!). One winner will be selected at random and announced on Thursday, the 15th in the comment section of this blog post. Good luck and don't forget to share this giveaway with your friends!
---
The author of more than ninety books for children and adults, Janice Kay Johnson writes about love and family—about the way generations connect and the power our earliest experiences have on us throughout life. An eight-time finalist for the Romance Writers of America RITA award, she won a RITA in 2008 for her Superromance novel Snowbound. A former librarian, Janice raised two daughters in a small town north of Seattle, Washington.