Buy A Plain Malice and Give Back to Those in Need By Amanda Flower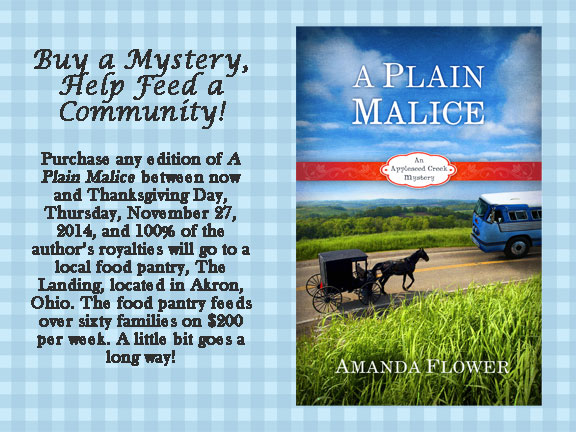 The original publisher of my Appleseed Creek Mystery Series decided that it want to go in a different direction that did not include publishing fiction. As a result, they canceled all of their fiction series. Sometimes this happens in publishing. For me it meant the end of my popular Appleseed Creek Mystery Series, which was disappointing. However, I was most worried about the abrupt ending because I left my readers hanging at the end of book three, A Plain Disappearance. I knew I had to give my readers a proper ending about Chloe and Timothy, so I decided to publish A Plain Malice, book four, myself.
But more than publish it, I wanted to do something special with this book because the series was so beloved by my fans. The idea to donate my royalties to charity struck me in church. It wasn't a lightning bolt or anything, but I do remember sitting in my usual pew when the idea hit me and not being able to sit still because I was so excited to put the plan into action. It should be said I'm not great at sitting still anyway, so I was practically bouncing up and down.
Here's what I have done because I've always considered this novel a gift to my readers. I have decided to donate all of my royalties for the novel that I earn through Thanksgiving Day to a food pantry.
Purchase any edition of A Plain Malice between now and Thursday, November 27, 2014, and 100% of my royalties will go to a local food pantry, The Landing, located in Akron, Ohio. My brother and sister-in-law, Andrew and Nicole Flower, manage the Landing in the basement of Akron Christian Reformed Church with a group of dedicated volunteers. The food pantry feeds over sixty families in the church's neighborhood on $200 per week. You can learn more about the Landing in this article and video recently published in the Akronist.
So far we have raised nearly $2,000 which is over two months' worth of food for The Landing. We'd love your help in covering at least another month.
Buy a mystery and help feed a community! And as always thank you for reading! I hope A Plain Malice brings a smile to your face.
Order Kindle edition HERE!
Order Nook edition HERE!
The paperback edition will release in early December.
---
Amanda is giving away a copy of her first book, Maid of Murder, which just came out paperback to one lucky reader!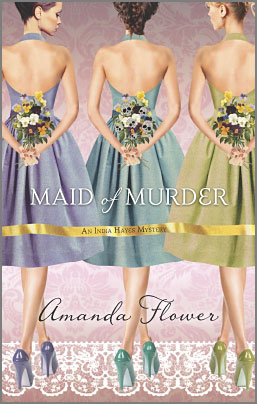 To enter leave a comment for Amanda.
For an EXTRA chance share this post and leave a comment if you do.
Contest starts today Monday, October 27th and ends on Monday, November 3rd.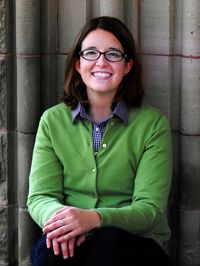 Amanda Flower, an Agatha-nominated mystery author, started her writing career in elementary school when she read a story she wrote to her sixth grade class and had the class in stitches with her description of being stuck on the top of a Ferris wheel. She knew at that moment she'd found her calling of making people laugh with her words. Her debut mystery, Maid of Murder, was an Agatha Award Nominee for Best First Novel and her children's mystery, Andi Unexpected, was an Agatha Award Nominee for Best Children's/YA Novel. Amanda is an academic librarian for a small college near Cleveland. She also writes mysteries as Isabella Alan. Visit her at www.amandaflower.com
Follow Amanda on Social Media at: Facebook ,Twitter ,Goodreads, Pinterest