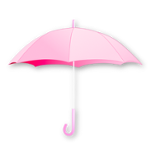 The past year has been rough for one of our favorite Amish fiction authors but you wouldn't know that from her pink umbrella attitude which is: Surviving Breast Cancer with Humor, Laughs, and a Whole Lot of Support! I say rough because once you read The Faces of Cancer: Sarah Price's Story, you will fully understand what she has been going through. Most people would have been feeling sorry for themselves and asking "why me" but not Sarah. She is an inspiration to me and women everywhere. A force to be reckoned with! I love that she is sharing her story…a glimpse inside what cancer really looks like. The fears, the struggles, and the impact that it has on loved ones. Cancer is terrible. Period. Even through all the darkness there is always something positive to find. Like Sarah says "Life isn't about waiting for the storm to pass…It's about learning to dance in the rain." I couldn't agree more!!
October is National Breast Cancer Awareness Month so take the time to read this book and pass it on to someone you love. We all know someone who has been impacted by cancer and until the day when we can say we live in a world where this horrible disease doesn't exist we must keep fighting the good fight.
Something that I think is fabulous is that Sarah is donating 100 percent of the proceeds from this book to the TJ Martell Foundation, the music industry's largest foundation that funds innovative medical research focused on finding cures for leukemia, cancer and AIDS. Awesome, don't you think!?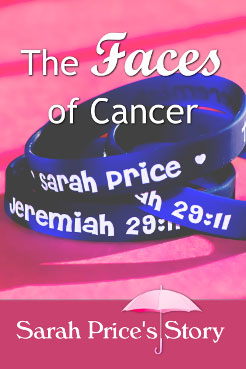 I am giving away a copy of The Faces of Cancer: Sarah Price's Story to one lucky reader.
To enter leave a comment…easy peasy! For an EXTRA chance share this post and leave a comment if you do.
Contest starts today Friday, October 31st and ends on Friday, November 7th.
To Purchase a Copy of The Faces of Cancer: Sarah Price's Story Click Here