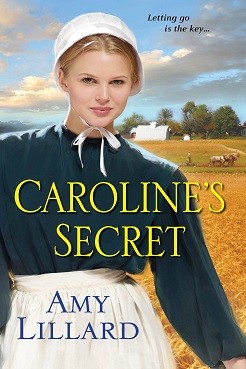 When I received the uncorrected proof of Amy Lillard's first book in her Wells Landing series, Caroline's Secret, I wasn't sure what to expect. It was the first time I has read anything by Lillard and so I was a bit hesitant. Thankfully, I was pleasantly surprised.
Caroline's Secret centers around the life of Caroline Hostetler, who has left the only home she's ever known, her Swartzentruber Amish family in Tennessee. She settles down, alone (with her young babe Emma) in the Beachy Amish community of Wells Landing, Oklahoma. All is going very well for Caroline (even if her father will not even speak her name) until she meets the handsome and very helpful Andrew Fitch. But Caroline has a secret. A secret that could tear relationships apart – friends, family and even a budding romance. Can these relationships be salvaged if the secret is revealed?
I was given Caroline's Secret in exchange for my honest review. I enjoyed Caroline's Secret – it was a good read. I liked how Lillard started each chapter with a letter by one of the main characters. It was a brilliant way to add depth and move the storylines along. That being said, the storyline still could have moved along more quickly, as it lagged and seemed very predictable in some spots. As an Amishaholic, I also would have liked to have had a better glimpse into the Swartzentruber sect of the Amish since it is rarely written of, but very different from the other sects of the Amish. When the Swartzentruber Amish were mentioned, I expected to read more about them and their differences with that of the Beachy Amish. Overall though Caroline's Secret was an enjoyable read and can easily be read as a stand-alone.
Susan Ferrell and her husband make their home in the Atlanta Metro area. Although Susan struggles with chronic migraine headaches, she stays very busy as a stay-at-home mom to one very precocious 5-year old. While catching her breath, she feeds her Amishaholic tendencies by reading vast amounts of Amish literature!