I can hardly believe we are making our way through July. I hope everyone is enjoying long lazy days filled with lemonade and barbeques. I love summer but I also love Christmas just as much. I started thinking what better way to have some fun than to combine my love for both with a wonderful giveaway! I am giving away a few of my favorite things in a prize package that one lucky reader will win. I picked out an adorable horse and buggy ornament from Tis the Season located in the heart of Amish Country. One of my favorite books so far this year was First Impressions by Sarah Price. It is a re-telling of the classic book Pride and Prejudice by Jane Austen.You can read my review HERE. I have an autographed copy from Sarah to give one lucky reader. She is also adding wristbands and bookmarks. And finally, I thought some Christmas cookie cutters would be nice so you can start your baking early while reading a great book!
Sarah also has The Matchmaker (a re-telling of Emma) coming out in February. You can now pre-order your copy…yay! Good Luck everyone 🙂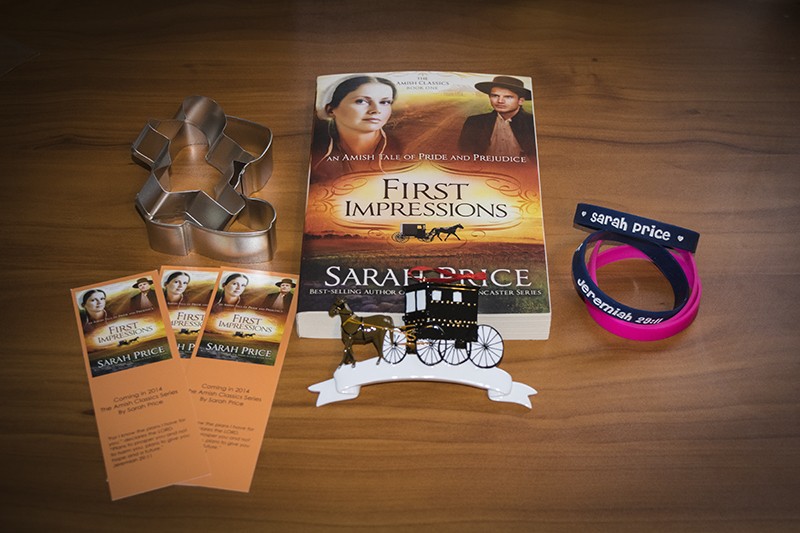 First Place Winner Will Receive:
*An autographed copy of First Impressions- An Amish Tale of Pride and Prejudice and bookmarks.
*A horse and buggy ornament from Tis the Season located in Berlin, Ohio.
*Sarah Price blue wristbands and pink umbrellas wristbands. These are super cool!
*Two cookie cutters from Walnut Creek Cheese. One is a Santa boot and one is a gingerbread boy.
Second Place Winner Will Receive:
*Wristbands and Bookmarks*
*******************************************
To enter leave a comment below. If you would like an EXTRA chance share this link on Facebook or Twitter. Remember to leave another comment if you did.
**Contest starts today Monday, July 14th and ends on Friday, August 1st.**
Pre-order The Matchmaker HERE