There over 290 recipes in my newly released Amish Friends 4 Seasons cookbook, contributed by Amish and Mennonite women around the country who enjoy cooking with the seasons. In addition to the seasonal recipes, the cookbook includes many home and gardening tips.
Food that is in season is produce purchased and eaten around the time that it is harvested. Seasonal food is fresher, has a better taste, and is more nutritious than food consumed out of season. One example would be strawberries. Even though many people like to eat them any time of the year, the best time to eat strawberries is when they can be purchased from a local grower or from your own garden soon after they are harvested. Seasonal vegetables and fruits produced on local farms are fresher, because they don't have to be shipped long distances.
In my quest for good health, I've learned that for the majority of my meals, it's best to eat foods that are in season. During the colder months, when food is not grown locally, I like to choose produce and other products that are shipped from areas as close to home as possible. I feel that eating foods in season is better for my health, because the fruits and vegetables are nutritionally dense and taste better. Naturally ripened vegetables and fruits grown and picked in season are full of flavor and nutrients. Also, they can usually be bought at a lower price than when they are out of season.
Most years, my husband and I plant a mid-sized garden that includes strawberries, blueberries, raspberries, and a variety of vegetables. We enjoy the fruits of our labors during the summer and fall months when the produce is ripe and ready to pick. If you are unable to grow a garden of your own, you might consider buying locally grown produce at farm stands or farmers' markets. Many grocery stores also sell locally grown produce.
From my own collection of recipes, I included three of my favorite seasonal recipes in the Amish Friends 4 Seasons cookbook. They are: Marinated Zucchini Salad, Italian Spaghetti Squash, and Winter Stew. I hope that anyone who purchases this wonderful cookbook will enjoy all of the tasty recipes that are served in Amish and Mennonite homes during each of the four seasons and on special holidays throughout the year.
Fresh Recipes for Each Season of the Year

Do you strive to eat what is local, fresh, and in season? Then this is the cookbook for you. Organized by the winter, spring, summer, and fall seasons, there are a bounty of recipes for various ways to use up seasonal fruits and vegetables. Sprinkled with tips for growing and harvesting, too, the well-organized book boasts contributions from Amish and Mennonites from across the United States who are fans of author of Amish fiction, Wanda E. Brunstetter. Encased in a lay-flat binding and presented in full color, it is a must-have cookbook for anyone who gardens, participates in a CSA, or enjoys farmers' markets.
---
Amish Country's Most Beloved Storyteller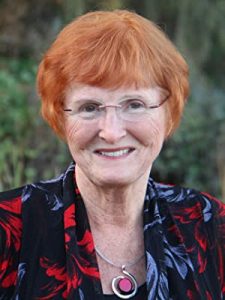 New York Times bestselling author Wanda E. Brunstetter is one of the founders of the Amish fiction genre. With over 12 million copies sold, Wanda's stories consistently earn spots on the nation's most prestigious bestseller lists and receive numerous awards.
When Wanda visits her Amish friends, she finds herself drawn to their peaceful lifestyle, sincerity, and family ties. She and her husband, Richard, have been blessed with two grown children, six grandchildren, and two great-grandchildren.
Connect with Wanda: Website, Facebook, and Twitter
---