Those of you who know me know I love to craft, particularly crochet. The Amish also love handmade items, and I often include characters who either craft for a hobby/home usage or as a business.
In Love in Plain Sight, Katharine weaves baskets, and in a cute twist, Ezra asks her to teach him.
Over the years I've collected several Amish baskets. Not only are they lovely, sturdy, and useful, I almost exclusively choose ones crafted by children and teenagers. You'll also see baskets made by adults, but I don't see a difference in the quality and I love supporting young crafters.
Here are two small baskets I bought on my trip to Ohio last year. Notice the age of the makers. 🙂
In Amish country there are many stores that sell "Amish" baskets, but they're not always made by the Amish. When I look for genuine baskets, I make sure to check the bottom to see if the weaver signed their work. I have some baskets that don't have a specific artist's name on the bottom, but the name of the family business and the address. One is Gingerich's Baskets in Apple Creek, OH.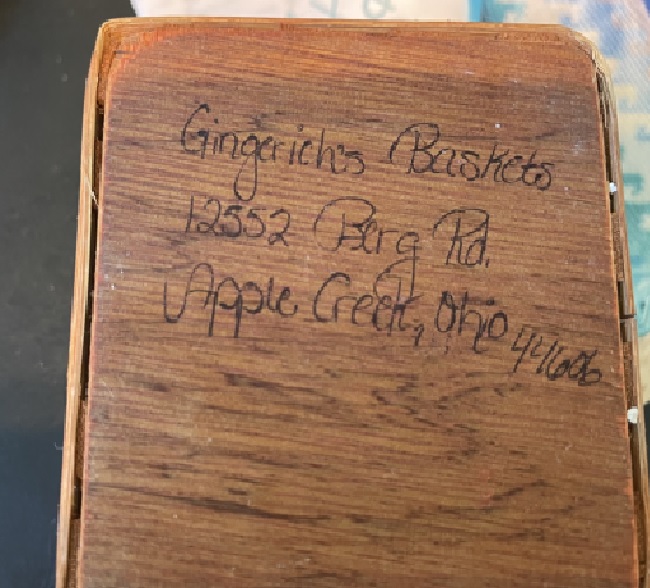 I don't weave baskets, but I have crocheted a few. This one is large enough to hold a several of my books. 🙂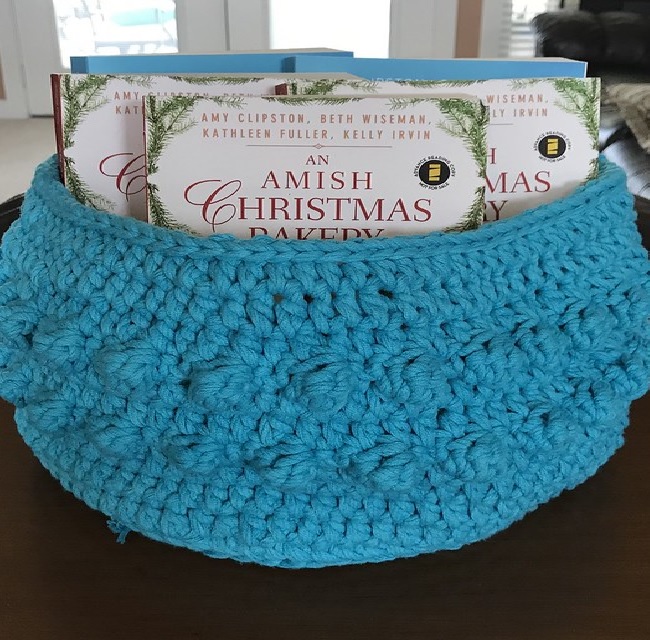 This next one was an idea I had to upcycle old computer disks. I crocheted ten granny squares and crocheted two together to form a pocket, then inserted a disk and crocheted them closed. Then I crocheted the sides and bottom together. It's a quick project to make—I just need to write down the pattern.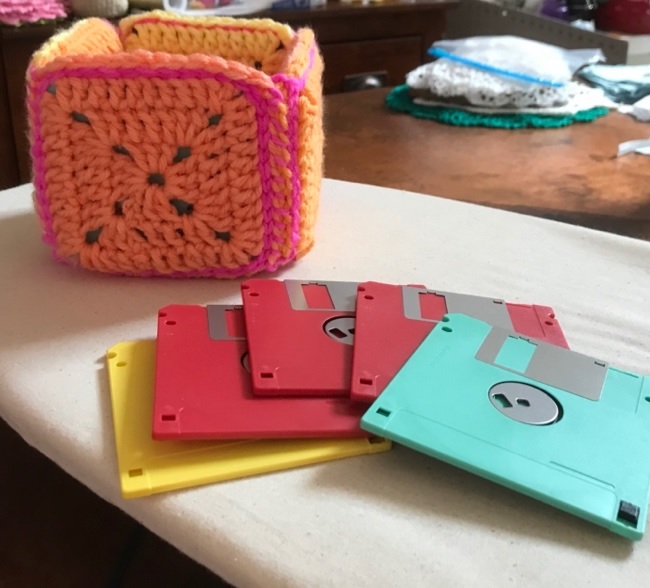 I used this basket as a holder for some artificial greenery. I also made the doily.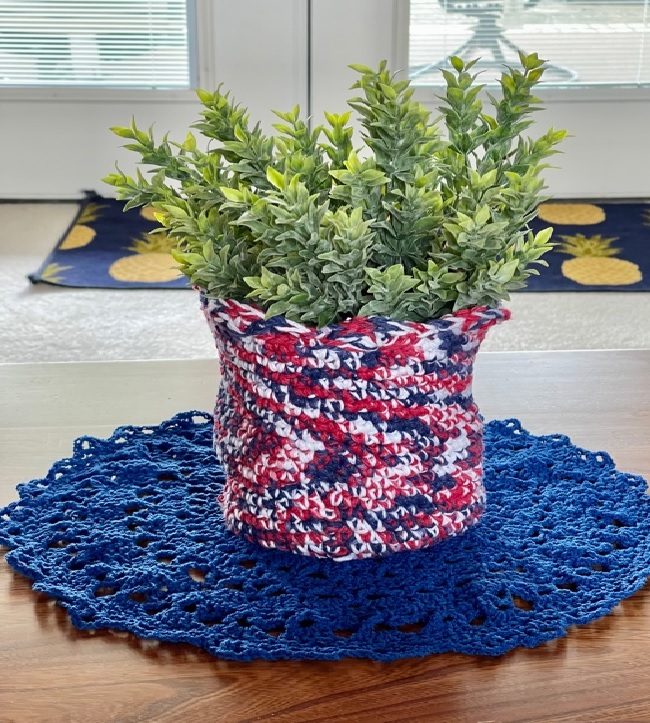 As you can see, I'm a little obsessed with crochet. So is Cevilla Schlabach, a recurring character in my Birch Creek books, who also features in Love in Plain Sight. She's an avid crocheter, and rarely without her hook and yarn. She also rarely stays out of other people's businesses, and that includes Katharine and Ezra.
Each month I feature some of my crochet projects in my Books & Hooks newsletter—you can sign up for it here. I also hold monthly contests where I give away an autographed copy of one of my books, along with one of my crocheted items. 2022 is the year of scarves and I'm giving away a scarf a month.
If you'd like to enter to win an autographed copy of Love in Plain Sight and a crocheted flower that can be used as a magnet or pin (backing not included), answer this question in the comments of this post: What crafts do you enjoy?
She has a secret she's determined to keep. He's just as determined to get to know her. These two strong wills clash in beautiful romantic sparks in this Amish rom-com.

Katherine Miller arrives in Birch Creek under the guise of looking for a husband, but really she is hiding a secret she can't reveal. The small Amish town becomes the perfect place to wait until she can figure out her next move. But when Ezra Bontrager is hired as the Stoll Inn's new handyman, she at first finds his interest in her annoying. The one time she needs men to ignore her, she can't seem to shake this one—and try as she might, she eventually can't help but find his persistence endearing.

Ezra has never been shy when it comes to making friends, and he's determined to get to know the elusive Katherine a little better. What he doesn't count on is falling for her or discovering the real reason she's hiding in Birch Creek.
Giveaway starts today, Tuesday, May 3rd and ends Tuesday, May 10th and is only open to US residents (sorry!). One winner will be selected at random and announced on Wednesday, the 11th in the comment section of this blog post.
---