Fatal Frost – A Chilling Thriller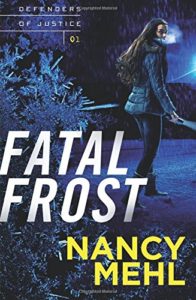 Well, Nancy Mehl has gone and done it now! I've been in my happy place with her previous writings – what I call Mehl Mennonite Mysteries. If you haven't read them (the Road to Kingdom and Finding Sanctuary series), then by all means get crack-a-lackin'! That being said, I've now entered a new phase thanks to Mehl: Crime and Suspense thrillers! And (shh)…I like it! Mehl's latest novel, Fatal Frost (first in her Defenders of Justice series) will leave you on the edge of your seat, turning page after page late into the night!
Fatal Frost follows U.S. Marshal Mercy Brennan, who is recovering from being shot in the line of duty. Her cop-dad has never been a shining example in her life. So when he comes back around after her injury, she's less than enthused. Little does she know, being around her dad now exposes her to a vicious gang…and she is in grave danger. Mercy's boss tasks fellow Deputy U.S. Marshal (and ex-boyfriend), Mark. St. John with getting Mercy to safety…during one of the worst ice storms their area has ever seen. Much is in jeopardy – and who can be trusted is unclear. Will they make it? Read and find out!
I was given Fatal Frost in exchange for my honest review and I found it riveting. The characters are realistic, engaging, and worth cheering for. And the bad guys? Well, Nancy Mehl has done her job: They are complex…and you certainly do not want them to win! Mehl looks to be off to a great start with this new series, and I cannot wait for Book Two!
---
Susan Ferrell and her husband make their home in the Atlanta Metro area. Although Susan struggles with chronic migraine headaches, she stays very busy as a stay-at-home mom to one very precocious little girl. While catching her breath, she feeds her Amishaholic tendencies by reading vast amounts of Amish literature!