The Newcomer – Friend or Foe?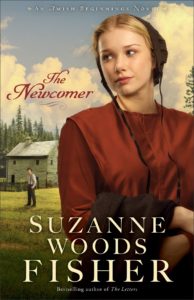 After Suzanne Woods Fisher's release of Anna's Crossing, her fans clamored for more. True, it was in the Amish genre (ALWAYS a good choice), but Fisher discovered a NEW storyline – which is becoming rare these days. Needless to say, when the sequel to Anna's Crossing, The Newcomer, came out I was overjoyed. Suzanne Woods Fisher has struck gold again!
In The Newcomer, readers will be reunited with familiar characters like faithful Anna, mischievous Felix and his awful dog. Bairn, a.k.a. Hans, has also returned. And then – then there is this newcomer: Henrik. Henrik joins the Ixhaim group as they head to the area near Philadelphia that was staked out the year before. But illness, hardship, intrigue, and mystery surround this next part of their journey. And is this newcomer a friend or foe?
I was given The Newcomer in exchange for my honest review. I found it to be a stellar read. I read it in two days and was disappointed to see it come to an end (thankfully a third book in the series is yet to come!) The characters are full of life and charm. I am particularly fond of Felix and his impish ways. But I was most taken by Dorothea's story as part of the intricate patchwork quilt that Suzanne Woods Fisher pieced together into a wonderful work of art. Definitely another win for Suzanne Woods Fisher!
---
Susan Ferrell and her husband make their home in the Atlanta Metro area. Although Susan struggles with chronic migraine headaches, she stays very busy as a stay-at-home mom to one very precocious little girl. While catching her breath, she feeds her Amishaholic tendencies by reading vast amounts of Amish literature!