The Lopsided Christmas Cake – Falls Flat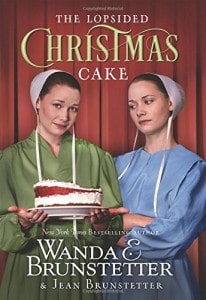 The Brunstetter name immediately conjures up images of buggy rides, prayer kapps, quilts, and yummy Amish treats. When a friend of mine passed along her copy of The Lopsided Christmas Cake to me, I was ready to see what Brunstetter had to offer. Unfortunately, the whole thing fell a bit flat.
The Lopsided Christmas Cake tells the story of Thelma and Elma, twins that have done everything together during their 32 years. When their grandparents unexpectedly die and leave their home and general store to the twins, they make the move to a new Amish community.
Along the way, they decide to enter a cake-baking contest. Their bizarre participation piques the curiosity of two bachelors/friends who have come to attend the auction. In the midst of it all, it looks like there may be more cooking than just the cake!
The Lopsided Christmas Cake's storyline was quite weak. I wanted to really like it, but it lacked substance. Any angst or troubles between the characters seemed very forced and far-fetched. I will say that The Lopsided Christmas Cake is a quick read. If you want something to entertain you for an evening or so, then this might be just the thing for you. But in the end, for me, The Lopsided Christmas Cake just falls flat.
---
Susan Ferrell and her husband make their home in the Atlanta Metro area. Although Susan struggles with chronic migraine headaches, she stays very busy as a stay-at-home mom to one very precocious little girl. While catching her breath, she feeds her Amishaholic tendencies by reading vast amounts of Amish literature!