Amish girls learn to sew when they are very young—even two- and three-year-olds can help Mamm by picking up scraps and keeping the sewing area tidy. In a few years they will be able to thread a needle and learn their stitches by sewing squares of fabric together—though it takes some practice to attain the "ideal" of ten stitches to the inch!
The piecing in Amish quilts can be as simple as a large square surrounded by smaller rectangles, or as complicated as one I saw in Lancaster County recently called a Rondelay, which was a Mariner's Compass blended with complex circular shapes and long, spiky triangles. I was so amazed by this quilt that I had to write one into Keys of Heaven (book two in the Healing Grace trilogy), and have a character who had already been established as an accomplished quilter make it.
The quilts the Amish women sell in their homes for tourists are designed for Englisch tastes in color, meaning patterned fabrics, batiks, and florals. For their own use, Amish woman use the colors and fabrics from which they make their own dresses. Often the quilts will have a black or other dark background, because it doesn't show soil as much, with patterns of blue, green, rust, taupe, purple, and deep cherry that are scraps from the fabrics they use at home.
Fun note: In Intercourse, PA, the Amish district north of Highway 340 is more liberal than the one south of the highway. For that reason you'll see dresses made in peach, pink, and even yellow!
My favorite quilt block is the Nine-Patch, a pattern that's so easy even little girls can make it. But humble and easy to construct though it might be, there is a lot of variety in what you can do with it. There is an elegant simplicity in the way an Amish woman puts together her blocks, leaving lots of room for the hand quilting that brings out her quiet artistry and is her way of praising God with beauty.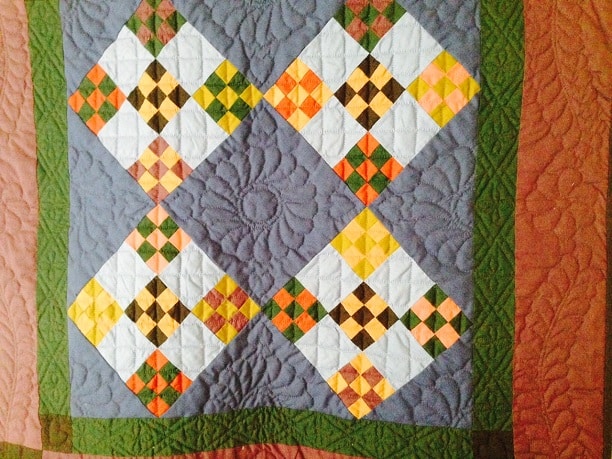 But the Nine-Patch can also dazzle with apparent complexity, as in this baby quilt I made for my great-niece: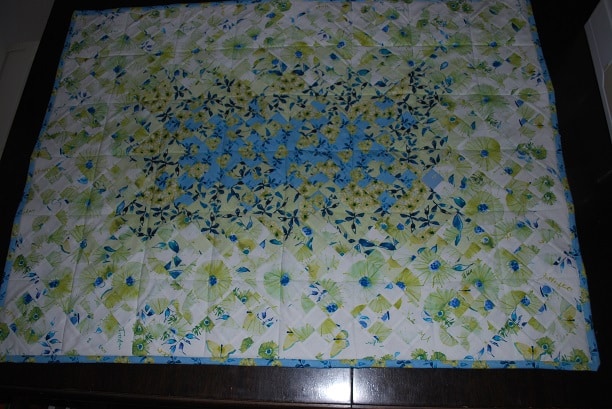 The same blocks—Nine-Patch and plain—used in two utterly different ways. What they have in common, though, is that they were made for a distinct purpose, with love and a heart for the person who would eventually enjoy them. And that, I believe, is something we can share with our Amish sisters!
---
Adina Senft grew up in a plain house church, where she was often asked by outsiders if she was Amish (the answer was no), she made her own clothes, and she perfected the art of the French braid. She holds an M.F.A. in Writing Popular Fiction from Seton Hill University in Pennsylvania, where she teaches as adjunct faculty.
Visit with Adina on Facebook, Twitter, and adinasenft.com