The Bishop's Son – A Story of Struggle, Faith, and Hope –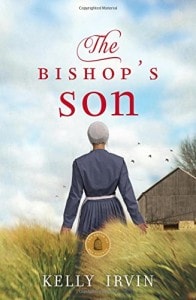 I was thoroughly taken by Kelly Irvin's The Beekeeper's Son (first in her The Amish of Bee County series), when the second in this series, The Bishop's Son, hit my doorstep I could hardly contain my enthusiasm! Once I started reading The Bishop's Son, it was difficult for me to put it down! This story of struggle, faith, and hope will draw you in to the final page.
The Bishop's Son tells the story of Leila Lantz, who has loved the Bishop's son, Jesse Glick, from her first sight of him. But Jesse runs hot and cold – one minute it seems like he wants to court her, the next day he avoids her. Jesse is at a crossroads in his faith…and being the Bishop's son is not making it any easier. Then there is Will Glick, Jesse's cousin. He cares for Leila deeply, but also knows of Jesse's secret struggles with his faith. Should he risk one – or both – relationships? Should Leila choose steadfast Will or unpredictable Jesse? Read and find out!
I was given The Bishop's Son in exchange for my honest review. I thought it was fabulous. After reading The Beekeeper's Son, I was not sure Kelly Irvin could deliver…puh! I have read countless stories of Amish men or women doubting their faith. I have never read a storyline quite like this one though. It was narrated with such heart. I was full invested in Jesse's struggle. No doubt, what Jesse felt is often what modern-day Amish men and women must feel when they are at a crossroads in their faith. The story was brilliantly told and the struggle felt very real. I would recommend that readers read Book One of the series, as characters and their storylines are mentioned throughout. The Bishop's Son is such a great novel – do not miss out! Thank you, Kelly Irvin, for such a wonderful read!
---
Susan Ferrell and her husband make their home in the Atlanta Metro area. Although Susan struggles with chronic migraine headaches, she stays very busy as a stay-at-home mom to one very precocious little girl. While catching her breath, she feeds her Amishaholic tendencies by reading vast amounts of Amish literature!