Today we have Beth Wiseman, Amy Clipston, Kathleen Fuller, and Vannetta Chapman stopping by to share special childhood memories. Also, a copy of their new book An Amish Cradle is up for grabs! Details on how to enter are at the end of the post. Let's all welcome them to Destination Amish!
 Beth Wiseman
I'm 5'10" tall, and I had already reached that height by the time I was in eighth grade, which meant that I was taller than most of the boys my age. Thus, no invitation to the coveted Eighth Grade Dance. I remember feeling like my life would end if a boy didn't ask me to go with him.
The night of the dance, I was still alive, albeit dateless, so I put on my party dress, wore flats, and speculated about my life as a wallflower in a few hours. I'm quite the extrovert these days, but back then, I was shy, and standing out at fourteen was not an option.
A deliveryman showed up at my house shortly before it was time to leave for the school, and he presented me with a beautiful orchid corsage with a note that read, From Your Secret Admirer. Somewhere in the recesses of my mind, I knew this was the work of my father.
It was the seventies, and my recollections of this dance included boys and girls coupled up and standing near each other drinking punch, along with an occasional slow dance with lots of chaperones hovering nearby. But for that one magical night, I wore my corsage proudly and pretended it truly was from a secret admirer. My girlfriends and I gushed as we speculated about who might have sent the orchid. My father never admitted it was him, but it turned out to be a night to remember after all.
Thank you for the memory, Daddy. I miss you.
We are all unique, perfect in every way, as God intended us to be. I hope readers of In His Father's Arms will enjoy this story about an Amish couple with a son who has Down Syndrome.
Kathleen Fuller
When Destination Amish asked me to write about a special childhood memory, I had a difficult time choosing only one. Many special moments flashed by—playing tag with the neighborhood kids (I ended up being "It" a lot), catching fireflies in a jar (and setting them free later on), swimming at the community pool (the best hangout ever). But while I had a great time at home, my favorite memories are from places outside my home state.
We didn't have any relatives in Arkansas, so vacations were spent driving to see family. Those visits were great fun. But for me, the best times were the places we visited while we were on the road. Every trip we stopped at a historical landmark or site. I've seen the Liberty Bell, visited almost every Civil War battle site, and have been to the Metropolitan Museum of Art, just to name a few. My parents made sure my siblings and I not only got to spend time with our relatives, but also experience different parts of the country and it's history. Those memories are truly special
A Special Cradle
By Amy Clipston
When I look at the beautiful cover for An Amish Cradle, I not only think of my two sons when they were babies, but it also makes me recalls a special cradle from my childhood.
My grandfather, whom my cousins and I called Nana's Daddy, made a cradle for me when I was a little girl. Since pink has always been my favorite color, he painted the cradle pink and included a decal of a lamb. My nana purchased a beautiful pink blanket with a matching pillow cover. She also made a pillow and a pad for the cradle.
For years, the cradle rocked my favorite dolls to sleep. When I outgrew my toys, the cradle found a home in the attic. Recently, I went searching for it and found it in our attic. I cleaned it up and washed the bedding. The cradle makes me think of my grandparents, who passed away many years ago. I miss seeing them and visiting them in their little house located in Midland Park, NJ.
I hope that someday I will have a granddaughter who will enjoy the cradle as much as I did. I'm so thankful for my grandparents and the special memories they gave me, including this cradle.
Here is a photo of the cradle with the special bedding that my nana bought for it.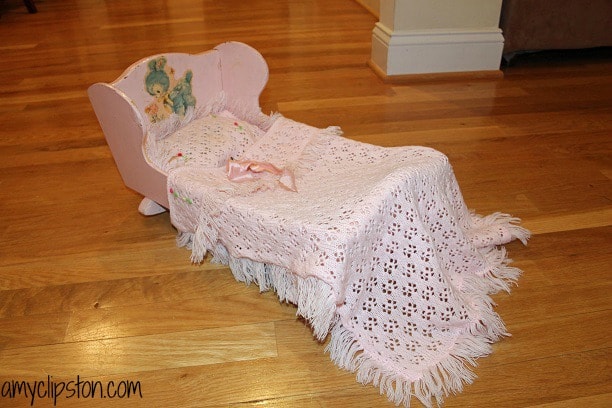 Here is a photo of the cradle with my favorite doll, Beth.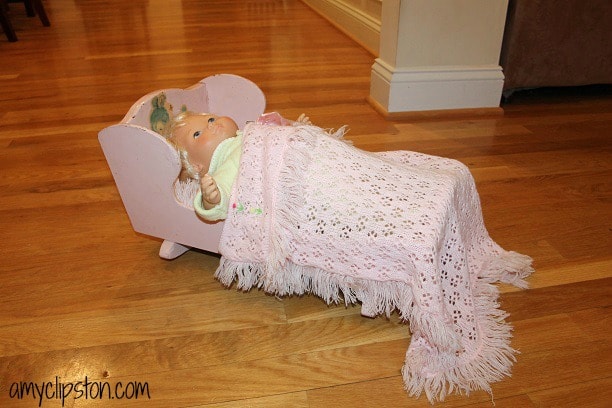 Vannetta Chapman
A special childhood memory for me is of the day I brought my son home. William was a big baby boy at 9 pounds and 3 ounces. He looked so perfect to us, and we thought he was a healthy, sweet, perfect little miracle. But very soon after he was born we knew something was wrong. Within minutes they had whisked him away and inserted a tube in his lung. He had a spontaneous pneumo-thorax. Basically when he was being born, he popped a hole in his lung, and so they put the tube in the other lung to stabilize him. Afterwards they transported him by ambulance across Dallas to another hospital that had a special neo-natal ward. Needless to say, he was the largest baby there.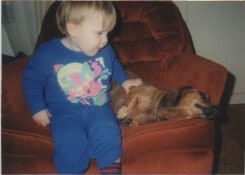 At the time, I thought my heart was BROKEN. I was very grateful that he was going to be okay, but going home without my baby was devastating. I wanted to spend all of my time there with him, sitting by his side, willing him to get well. Now I can see that God used this time to give me a real look into what parents with special needs children go through. As far as my son, he is 6'2" and doing very well!
About An Amish Cradle: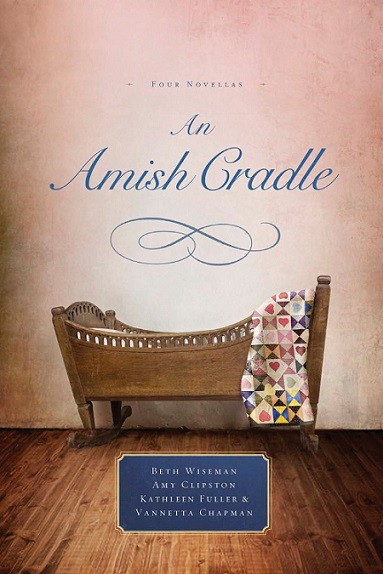 In His Father's Arms by Beth Wiseman
Ruth Anne has been dreaming about motherhood her entire life. Now she is doubly excited that she and her best friend are due with their children the same week. But when Ruth Anne's baby is born with Down syndrome, she and her husband struggle to understand God's plan.
A Son for Always by Amy Clipston
Carolyn and Joshua are thrilled to be pregnant with their first child together. Carolyn was just a teenager when she had her son, Benjamin, and she still feels solely responsible to secure his future. As Joshua watches Carolyn struggle to accept his support, he knows he has to find some way to convince her that she—and Ben—will always be taken care of.
A Heart Full of Love by Kathleen Fuller
Ellie's mother hasn't stopped meddling in her personal life since Ellie lost her sight—and she's taken it up a notch now that Ellie's pregnant. When Ellie gives birth to twins, her mother insists on moving in to care for them. But when her mother's behavior becomes unbearable, Ellie is forced to take a stand . . . and finally find out why Mamm can't let go.
An Unexpected Blessing by Vannetta Chapman
At 42, Etta thought she was finished having children, but she's pregnant again. After a frightening labor, Etta finally gives birth, but her constant worry over her estranged grown son, David, haunts her still. As a new mother again, Etta must hold tightly to the promise that God will watch over her children—and that one day David will return.
---
Sound like a good book? Want to win a copy? Today is your lucky day! HarperCollins Christian Publishing is giving one reader the chance to win a copy.
To enter leave a comment for the ladies.
For an EXTRA chance share this post and leave a comment if you do.
Giveaway starts today Tuesday, February 10th and ends on Tuesday, February 17th.
*Giveaway is only open to US residents*