I've lived in Ohio all my life. Well, almost all my life. There were those 5 years when my one true love married me and whisked me off to live in New York. But after our daughter was born, it only seemed natural to head back to our families in the Midwest. That's where we've been ever since.
But I have to tell you, although Sugarcreek is only about 3½ hours from our home, I honestly never knew anything about the town. It wasn't until a few years ago when I was invited there to speak to a group of women about my book Beaded Hope (which actually took place on the other side of the world in South Africa) that I made the trek up the highway for a visit.
Have you all been to Sugarcreek? I'd love to hear your impressions of the town and people. For me, during that initial visit to Sugarcreek, I definitely had a "feeling." You know, that very special sort of feeling. The one where you feel completely comfortable and at home. <Sigh!> Like you could mess up whatever you have to say, and no one will judge you. Like you could take off your shoes and wiggle your toes, and no one would care. (Not that I did that, of course!)
Basically, I felt no pretense in the air in that little burg, and nothing that said hurry. No horns honking. No long lines of traffic. Most notable was the occasional Amish buggy, clip-clopping its way up Main Street…a sound so soothing it could lull you into a peaceful trance if you let it.
Added to the town's charm were the groups of ladies I met who had invited me there to speak and sign books. Both English and Amish, they were so genuine and sweet I felt like I'd known them forever. I really, really, really didn't want to leave those women or the place. From the moment I left Sugarcreek years ago, I wanted to go back!
So it isn't any wonder that my latest book, The Sisters of Sugarcreek, is set in the quaint town, giving me the chance to do just that—return there again, both figuratively and literally.
If you're up for a fictional visit to Sugarcreek, come meet The Sisters of Sugarcreek—Jessica, Liz, and Lydia—at Rose's Knit One Quilt Too Cottage. They're an unlikely trio brought together by unusual circumstances. But as I've learned—and as they learn too—sometimes our hardest times in life can bring us the most special and unexpected gifts!
Blessings to you all!
About The Sisters of Sugarcreek :
Many lives were changed the day a fire burned down Faith Community Church, devastating the small town of Sugarcreek, Ohio.
Now a young Amish widow, Lydia Gruber faces an uncertain future. Her husband, a craftsman and volunteer firefighter, always took care of everything, keeping her isolated from others in their community. Without anyone or any skills, how will she survive?
With the death of her beloved aunt Rose in the fire, single mom Jessica Holtz inherits Rose's Knit One Quilt Too Cottage. Though determined to keep the shop open in her aunt's memory, she doesn't know the first thing about knitting and quilting and begins to see her aunt's dream slip through her fingers.
When Liz Cannon lost her dear friend Rose, she also lost her partner in the Secret Stitches Society—the name they gave themselves while delivering gifts of hope to troubled folks in the dark of night. She's also having problems of her own as the life she has rebuilt for herself begins to crumble again.
When Liz convinces Jessica to keep the Secret Stitches Society going, and they choose Lydia for their first mission, the three women cross paths and form an unlikely friendship in the aftermath of tragedy. As they walk together through triumph and heartbreak—through grief and new chances at love—they begin to discover that with friends by your side, a stitch of hope can be found anywhere.
Thank you so much for stopping by, Cathy! Destination Amish LOVES Sugarcreek. 😉 Readers, Cathy is giving ONE lucky person a chance to win a wonderful prize!
The GIVEAWAY includes:
-Signed hardcover copy of The Sisters of Sugarcreek
-Recipe cards from The Sisters of Sugarcreek Characters
-4 ft. Amish quilted table runner from Sugarcreek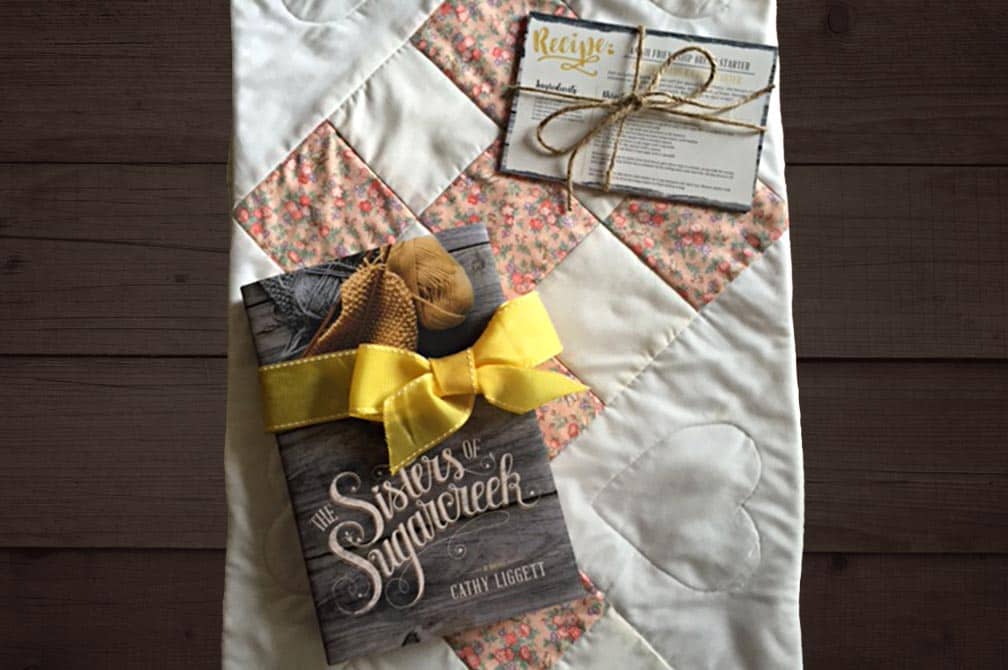 To enter, leave a comment below. The winner will be selected at random and announced on Thursday, June 22nd!
*Giveaway starts today, Wednesday, June 14th and ends Wednesday, June 21st and is only open to US residents*
---
Cathy Liggett is the American Christian Fiction Writers' prestigious Carol Award-winning author of Beaded Hope, her debut women's fiction novel which was also nominated Best Inspirational Novel by Romantic Times' Reviewers' Choice Awards. Besides women's fiction, she enjoys writing sweet romances. Cathy and her husband live in southwest Ohio and spend most of their free time walking and spoiling their boxer mix, Chaz. They are always happiest when their greatest blessings—their two grown children and most delightful son-in-law—are home for a stay. Visit her website at www.cathyliggett.com.
---
---