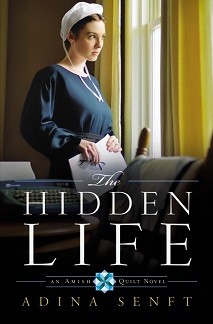 Emma Stolzfus is by no means your typical Amish woman. She is an unmarried thirty year old who harbors a secret passion for writing. Emma has dutifully taken care of her ailing mother always wondering when her time will come to marry and have a family. Feelings of jealously often rise up when she sees how happy her two best friends Amelia and Carrie are. Having a family of her own is all she has ever wanted and it is hard for her not to feel resentment at times. Writing is her escape and soothes her soul. Emma secretly enters a writing contest just to see if she has what it takes. She is not even sure why she entered and is not expecting to win. Although she doesn't win the big prize, Emma receives a letter from a literary agent who expresses some interest in her writing. He invites her to New York for a meeting about being published. Having a book published is a no-no in her community but she is intrigued by the offer. Throwing caution to the wind Emma boards a train for the Big Apple and heads towards a new chapter in her life…….
I absolutely loved The Hidden Life! Nothing is as enjoyable as feeling the same way the characters do throughout the story and believing that you are mixed into the same world. I felt this way throughout the book because the characters are so relatable and interesting. As you turn the pages, the book consumes you, engulfing you in between the lines of this wonderland of simplicity. This is why I read Amish fiction….to get away from the hustle and bustle of the world and see the simpler side of life. Now don't get me wrong The Hidden Life is full of conflict, romance, and drama! Overall I felt Adina captured the Amish way of life with fine detail. Be prepared to become an even bigger fan of Adina's after you read this book and you will be eagerly anticipating the next installment The Tempted Soul just like me!
This book was provided to me from Faith Words a division of Hachette Book Group for review.
---
Author Info
Adina Senft
The Wounded Heart, an Amish Quilt novel, September 2011
The Hidden Life, June 2012
The Tempted Soul, 2013
http://www.adinasenft.com